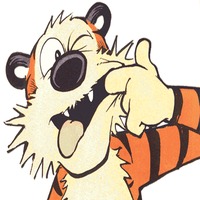 Hobbes
CBUB Wins: 4
CBUB Losses: 1
Win Percentage: 80.00%
Added by: Peypeypeypey
Read more about Hobbes at: Wikipedia
Official Site: Bill Watterson
Calvin and Hobbes is a syndicated daily comic strip that was written and illustrated by American cartoonist Bill Watterson, and syndicated from November 18, 1985, to December 31, 1995. It follows the humorous antics of Calvin, a precocious and adventurous six-year-old boy, and Hobbes, his sardonic stuffed tiger. The pair are named after John Calvin, a 16th-century French Reformation theologian, and Thomas Hobbes, a 17th-century English political philosopher. At the height of its popularity, Calvin and Hobbes was featured in over 2,400 newspapers worldwide; as of January 2010, reruns of the strip still appear in more than 50 countries. Nearly 45 million copies of the 18 Calvin and Hobbes books have been sold.
Calvin and Hobbes is set in the contemporary United States in an unspecified suburb area. The strip depicts Calvin's flights of fantasy and his friendship with Hobbes, and also examines Calvin's relationships with family and classmates. Hobbes' dual nature is a defining motif for the strip: to Calvin, Hobbes is a live anthropomorphic tiger; all the other characters see him as an inanimate stuffed toy. Though the series does not mention specific political figures or current events, it does explore broad issues like environmentalism, public education, and the flaws of opinion poll.
Calvin and Hobbes was conceived when Bill Watterson, working in an advertising job he detested, began devoting his spare time to cartooning, his true love. He explored various strip ideas but all were rejected by the syndicates. United Feature Syndicate finally responded positively to one strip, which featured a side character (the main character's little brother) who had a stuffed tiger. Told that these characters were the strongest, Watterson began a new strip centered on them. Though United Feature rejected the new strip, Universal Press Syndicate eventually took it.
The first strip was published on November 18, 1985,
Regular play Record:
| Result | Opponent | A Score | | B Score |
| --- | --- | --- | --- | --- |
| Win | Calvin | 24 | to | 16 |