| | |
| --- | --- |
| Character sourced from: Sci-Fi | |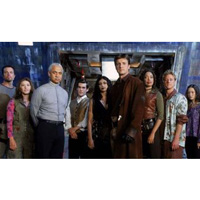 The Firefly Crew
CBUB Wins: 3
CBUB Losses: 3
Win Percentage: 50.00%
Added by: WANDERINGJD
Read more about The Firefly Crew at: Wikipedia
Official Site: Fox
Firefly is an American space western television series created by writer and director Joss Whedon, creator of Buffy the Vampire Slayer and Angel, under his Mutant Enemy Productions label. Whedon served as executive producer, along with Tim Minear.
The series is set in the year 2517, after the arrival of humans in a new star system, and follows the adventures of the renegade crew of Serenity, a "Firefly-class" spaceship. The ensemble cast portrays the nine characters who live on Serenity. Whedon pitched the show as "nine people looking into the blackness of space and seeing nine different things". The show explores the lives of people who fought on the losing side of a civil war who now make a living on the outskirts of the society, as part of the pioneer culture that exists on the fringes of their star system. In addition, it is a future where the only two surviving superpowers, the United States and China, fused to form the central federal government, called the Alliance, resulting in the fusion of the two cultures as well. According to Whedon's vision, "nothing will change in the future: technology will advance, but we will still have the same political, moral, and ethical problems as today."
Firefly premiered in the United States and Canada on the Fox network on September 20, 2002. Despite high expectations for the Joss Whedon-led project, by mid-December 2002 Firefly had averaged only 4.7 million viewers per episode and was 98th in Nielsen ratings. It was canceled after eleven of the fourteen produced episodes were aired. Despite the series' relatively short life span, it received strong sales when it was released on DVD and has large fan support campaigns. It won an Emmy in 2003 for Outstanding Special Visual Effects for a Series. The post-airing success of the show led Whedon and Universal Pictures to produce a film based on the series, Serenity. The Firefly franchise expanded from the series and film to other media including comics and a role-playing game.
Whedon developed the concept for the show after reading The Killer Angels, a novel chronicling the Battle of Gettysburg during the American Civil War. He wanted to follow people who had fought on the losing side of a war and their experiences afterwards as pioneers and immigrants on the outskirts of civilization, much like the post-American Civil War era of Reconstruction and the American Old West culture. He intended the show to be "a Stagecoach kind of drama with a lot of people trying to figure out their lives in a bleak pioneer environment." Whedon wanted to develop a show about the tactile nature of life, a show where existence was more physical and more difficult.
No match records for this character.