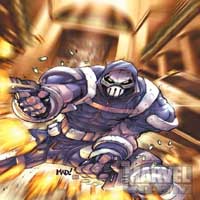 Taskmaster
CBUB Wins: 15
CBUB Losses: 8
Win Percentage: 65.22%
Added by: razorback
Read more about Taskmaster at: Wikipedia
Official Site: Marvel Entertainment
Taskmaster is a fictional supervillain in the Marvel Universe. Created by writer David Michelinie and artist George Pérez, the character first appeared in Avengers (1st series) #195. He is a main nemesis of Deadpool and Moon Knight, although he has reluctantly allied himself with Deadpool several times. Despite his criminal record, Taskmaster has been often used by the US Government as a training instructor, first as an arrangement to reduce his prison sentence, then later as a hired contractor after his release.
Taskmaster is a mysterious figure believed to have been born in the Bronx, New York City. He has the ability to mimic the physical movements of anyone he witnesses; writers differ on whether this counts as a "super power". He claims that he has had this ability since childhood, although he was on one occasion identified as a mutant. He works as a combat instructor and trains others to become lackeys for other villains by utilizing the techniques he has learned from his observation of superheroes and participates in mercenary jobs from time to time. Initially portrayed as a villain, he has also been shown as training U.S. Agent and other neophyte superheroes at the behest of the US government. A mercenary, he has no ideology except for that of his employer. Due to his ability to imitate the techniques and armory of other heroes and villains, the Taskmaster has occasionally been used to impersonate other characters.
The man who would become Taskmaster first demonstrated unusual abilities during childhood. After watching a cowboy show on television, he found himself able to duplicate the sophisticated rope tricks he had just watched the cowboy perform. Psychiatrists, called in at the mother's request, determined that the boy had a form of photographic memory which they called "photographic reflexes". He employed his power several times during his youth for personal gain, most notably when he became a star quarterback of his high school football team after watching one pro football game. Upon graduation, he briefly considered a career as a crime fighter, but opted instead to become a professional criminal, which he perceived to be far more lucrative.
Taskmaster then began a program of observing the fighting techniques of a large number of costumed heroes and villains (using archival television news broadcasts). He initially used his fighting skills to execute several successful grand larcenies, but he had not properly anticipated the dangers involved. He decided to use his stolen capital to establish a center for training aspiring criminals to become polished professionals. His goal was to become a supplier for criminal organizations around the world. Designing a costume, he took the name Taskmaster and began to train a large number of thugs at criminal academies he had located around the United States. However, his existence was eventually revealed when the head of one of these academies, using the Solomon Institute for the Criminally Insane as a front, used the school's resources to create a clone of himself when he required an organ donation due to him possessing an extremely rare blood type; learning of his fate, the clone managed to contact the Avengers. Taskmaster captured Yellowjacket, the Wasp, and Ant-Man when they invaded the premises. Taskmaster battled the Avengers, who exposed his front operation. He was subsequently forced to flee after a confrontation with the robot Jocasta, a new member of the team (thus meaning that Taskmaster was unaware of what she was capable of), whose lack of body language made it impossible for Taskmaster to predict her next move.



Images with a green border may be set as the character's main profile image.
For images 200x200 or 300x300 pixels square.