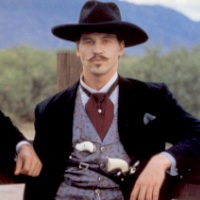 Doc Holliday
CBUB Wins: 2
CBUB Losses: 1
Win Percentage: 66.67%
Added by: Darwin Tremor
Read more about Doc Holliday at: Wikipedia
Official Site: Bueno Vista Entertainment
Tombstone is a 1993 American action film set in the Old West directed by George P. Cosmatos, written by Kevin Jarre (who was also the original director, but was replaced early in production ) and starring Kurt Russell, Val Kilmer, Sam Elliott, Bill Paxton, Powers Boothe and Dana Delany, and narrated by Robert Mitchum. Tombstone is based on events relating to the Gunfight at the O.K. Corral, along with the Earp Vendetta which followed it soon after in Tombstone, Arizona during the 1880s. It depicts a number of western outlaws and lawmen, such as Wyatt Earp, William Brocius, Johnny Ringo, and Doc Holliday as it explores crime, political corruption and law enforcement in the old American West. The film was a co-production between Cinergi Pictures and Hollywood Pictures. It was commercially distributed by Buena Vista Pictures theatrically and by Buena Vista Worldwide Home Entertainment for home media.
Tombstone premiered in theaters in wide release in the United States on December 24, 1993, grossing $56,505,065 in domestic ticket sales. The film was viewed as a moderate financial success after its theatrical run, and was generally met with mixed critical reviews. It failed to garner award nominations for production merits or acting from any mainstream motion picture organizations. A widescreen Blu-ray Disc edition featuring the making of Tombstone, director's original storyboards, trailers and TV spots was released in the United States on April 27, 2010. The original soundtrack, composed by musician Bruce Broughton, was released by the Intrada Records label on December 25, 1993. On March 16, 2006, an expanded two-disc version of the film score was released by Intrada Records; it features supplemental musical compositions by the Sinfonia of London session orchestra.
For the Western genre as a whole, Tombstone ranks number 12 in the list of highest grossing films since 1979.
Wyatt's wife, Mattie Blaylock (Dana Wheeler-Nicholson), is becoming dependent on laudanum. Just as Wyatt and his brothers begin to benefit from a stake in a gambling emporium and saloon, they have their first encounter with a band of outlaws called the Cowboys. Led by "Curly Bill" Brocious (Powers Boothe), the Cowboys are identifiable by the red sashes worn around their waist. Conflict is narrowly avoided upon Wyatt's insistence that he is retired and no longer interested in a career enforcing the law. This is also the first face-to-face meeting for Holliday and the sociopath Johnny Ringo (Michael Biehn), who take an immediate dislike to one another.