| | |
| --- | --- |
| Character sourced from: Gaming | |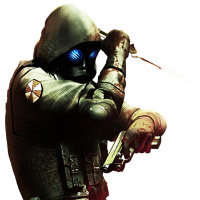 VECTOR (Resident Evil)
CBUB Wins: 0
CBUB Losses: 2
Win Percentage: 0%
Added by: AVP vs The Terminator
Read more about VECTOR (Resident Evil) at: Wikipedia
Official Site: Capcom
Resident Evil: Operation Raccoon City is a third-person shooter video game for Microsoft Windows, PlayStation 3 and Xbox 360, co-developed by Slant Six Games and Capcom. It was released on March 20, 2012 in North America, and scheduled for release on March 22, 2012 in Australia, March 23, 2012 in Europe and April 26, 2012 in Japan.
Not long after the battle, it becomes evident that the T-virus has leaked city-wide, and people are beginning to transform into flesh-hungry zombies. In what they see as a punishment by USS command, Delta team is ordered to remove evidence of Umbrella's role in the outbreak. Heading into Raccoon City Hall, Delta team meets with a UBCS mercenary and they monitor Nicholai Ginovaef; he is soon revealed as a traitor and attempts to kill Delta team.
Later, the team is sent out around Raccoon Park to find the Nemesis-T Type, which has gone rogue. A second parasite is injected into its body in order to bring it back under control. Shortly after this mission is completed, the team is then sent out to the Raccoon City Police Department, ordered to kill any surviving police officers and destroy evidence linking the company to the outbreak. When this is done, the team exits the station, and soon after encounter Leon S. Kennedy, whom they begin to hunt down along with Sherry Birkin. After they find and corner Leon, Claire Redfield and Sherry, the game can end in two ways: in one ending, the team resigns from Umbrella over their abandonment during the mission and betrays them by letting the three live; in the other, Leon and Claire are executed and Sherry is sent to an Umbrella facility.
There are twelve playable characters in the game, with six characters for each side. On the Umbrella Security Service team there is: Vector, the team's recon expert and is equipped with a cloaking ability; Beltway, who is proficient in the use of explosives; Bertha, the medic; Spectre, the marksman; Four Eyes, the scientist, with the ability to program the bio-organic weapons (BOWs); and Lupo, who is the team leader. On the United States Special Ops team there is: Willow is the recon expert; Dee-Ay is the team leader; Tweed is the demolitions expert; Harley is the medic; Shona is the field scientist; and Party Girl is the sniper.
No match records for this character.