| | |
| --- | --- |
| Character sourced from: Sci-Fi | |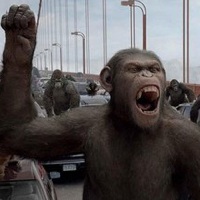 Caesar
CBUB Wins: 1
CBUB Losses: 1
Win Percentage: 50.00%
Added by: Darwin Tremor
Read more about Caesar at: Wikipedia
Official Site: 20th Century Fox
Rise of the Planet of the Apes is a 2011 American science fiction film directed by Rupert Wyatt and starring James Franco, Freida Pinto, and Andy Serkis. Written by Rick Jaffa and Amanda Silver, it is 20th Century Fox's reboot of the Planet of the Apes series, intended to act as an origin story for a new series of films. Its premise is similar to the fourth film in the original series, Conquest of the Planet of the Apes (1972), but it is not a direct remake in that it does not fit into that series' continuity.
Rise of the Planet of the Apes was released on August 5, 2011, to critical and commercial success. The film was nominated for an Academy Award for Best Visual Effects. It was also nominated for five Saturn Awards including Best Director for Wyatt and Best Writing for Jaffa and Silver, winning Best Science Fiction Film, Best Supporting Actor for Serkis and Best Special Effects. Serkis's performance as Caesar was widely acclaimed, earning him many nominations from many associations which do not usually recognize performance capture as real acting. A sequel to the film, Dawn of the Planet of the Apes, is set for release in May 2014.
Will Rodman (James Franco) a scientist at biotechnology company Gen-Sys, is testing viral-based drug "ALZ-112', on chimpanzees, to find a cure for brain ailments like Alzheimer's disease. The drug is given to a chimpanzee, Bright Eyes, greatly increasing her intelligence, but she is forced from her cage, goes on a rampage, and is killed. Will's boss Steven Jacobs (David Oyelowo) terminates the project and orders chimp handler Robert Franklin (Tyler Labine) to euthanize the chimps. After doing as ordered, Franklin discovers Bright Eyes had recently given birth and convinces Will to save the baby chimp's life by taking him home temporarily. Will's father Charles (John Lithgow), who is suffering from Alzheimer's disease, names the chimp "Caesar." Will learns that Caesar (Andy Serkis) has inherited his mother's high intelligence and decides to raise him. Three years later, Will introduces Caesar to the redwood forest at Muir Woods National Monument. Meanwhile, with Charles' condition rapidly deteriorating, Will treats him with ALZ-112 and he is restored to better than original cognitive ability.
After five more years, as an adult chimp of seven, upon seeing a dog on a leash (like his) Caesar openly question his identity - and Will tells him of his origins. Meanwhile, Charles' dementia returns as he has become resistant to the ALZ-112. Caesar witnesses a confrontation between confused Charles and neighbor Douglas Hunsiker (David Hewlett) and attacks Hunsiker. Caesar is then placed in a primate shelter where he is treated cruelly by the other chimps and the chief guard, Dodge (Tom Felton). Caesar learns how to unlock his cage, gaining free access to the common area. With the assistance of Buck - a gorilla, - he confronts the sanctuary's alpha chimp and claims that position.