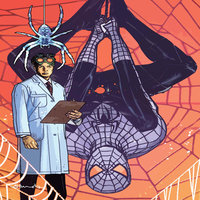 Spider-Man (Bruce Banner)
CBUB Wins: 0
CBUB Losses: 1
Win Percentage: 0%
Added by: ViceCityMobster86
Read more about Spider-Man (Bruce Banner) at: Wikipedia
Official Site: Marvel Comics
Bullet Points is a Marvel comic limited series that was published in 2006 and 2007, written by J. Michael Straczynski, illustrated by Tommy Lee Edwards and lettered by John Workman.
The series was released under the Marvel Knights imprint and examines the consequences to the Marvel Universe when Dr. Erskine is killed before Steve Rogers is injected with the Super-Soldier Serum and Ben Parker is killed before he raises Peter Parker.
The series begins on December 8, 1940. Dr. Abraham Erskine is killed by a German spy, along with MP Benjamin Parker, before the Super-Soldier Serum was to be used for Project: Rebirth.
Due to the assassination, Project: Rebirth is canceled. The US government activates Project: Iron Man and asks Steve Rogers to participate in it. Steve accepts, and is permanently bonded to the Iron Man armor. Iron Man debuts during the Battle of Guadalcanal, going on to help win the Second World War. As he was never frozen as in the mainstream Marvel Universe, Rogers goes on to become an essential part of American military tactics over the resulting decades, drafting Dr. Reed Richards to provide technical support.
No match records for this character.