| | |
| --- | --- |
| Character sourced from: Gaming | |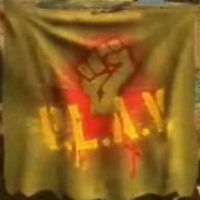 PLAV
CBUB Wins: 1
CBUB Losses: 0
Win Percentage: 100.00%
Added by: ViceCityMobster86
Read more about PLAV at: Wikipedia
Official Site: EA
Mercenaries 2: World in Flames, often abbreviated as Mercs 2, is a video game developed by Pandemic Studios and published by Electronic Arts. It is the sequel to 2005's Mercenaries: Playground of Destruction, and it was released in the United States on August 31, 2008 and in Europe on September 5, 2008. The game is a third-person shooter with an open world, set in a fictionalized war-torn Venezuela, following the story of a mercenary getting revenge on the man who betrayed him/her, while causing as much mayhem and destruction as possible.
Following the closure of Pandemic Studios, EA announced on November 24, 2009 that EA Los Angeles are working on a title currently known as Mercs Inc.
Mercenaries 2: World in Flames is set in August 2010 in Venezuela. The story begins as the player approaches businessman Ramon Solano's villa. The player is greeted by a man named Blanco, who worked with the player in the past. In the meeting inside the villa, Solano hires the player to rescue a Venezuelan Army General Carmona who is being held prisoner in an old colonial fortress on an island off the coast by the Army after a failed coup attempt. The player uses weapons and air strikes supplied by Solano to assault the fortress and rescue Carmona. But once Carmona is rescued, Solano attempts to murder the player to avoid paying and to make sure there is no one to interfere with his plans. The player escapes despite being "shot in the ass", and begins to plan revenge on Solano.
Following a second successful coup by Carmona, Solano is chosen as the "civilian leader of a military government". Solano attempts to seize control of the country's oil supply, which is held by a company called Universal Petroleum (UP). Fierce fighting ensues between Universal Petroleum's hired mercenaries and the Venezuelan Army (referred to as the VZ in the game) under Solano's control. This results in the collapse of the country, driving people from their homes and causing widespread property damage. After taking control over Solano's villa, the player establishes his private military company (PMC) and helps the causes of the factions in exchange for money and information on Solano. This includes capturing VZ outposts, "verifying" High Value Targets (or "HVTs" for short), destroying key structures, and doing other work that the faction's forces cannot accomplish.
No match records for this character.