The Order Of The Stick

CBUB Wins: 0
CBUB Losses: 1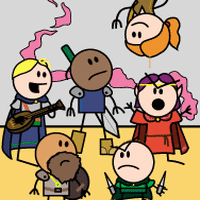 The Order of the Stick (OOTS) is a comedic webcomic that celebrates and satirizes tabletop role-playing games and medieval fantasy through the ongoing tale of the eponymous fellowship of adventuring heroes. The comic is written and illustrated by Rich Burlew, who creates the comic in a colorful stick figure style.
Taking place in a magical world that loosely operates by the rules of the 3.5 edition Dungeons and Dragons (D&D), the comic follows the sometimes farcical exploits of six adventurers as they strive to save the world from an evil lich. Much of the comic's humor stems from these characters either being aware of the game rules that affect their lives or having anachronistic knowledge of modern culture, which in turn is often used by the author to parody various aspects of role-playing games and fantasy fiction. While primarily comedic in nature, The Order of the Stick features a continuing storyline serialized in one- to four-page episodes, with over 800 such episodes released so far.
Although it is principally distributed online at the website Giant in the Playground, seven book collections have been published, including several print-only stories (On the Origin of PCs, Start of Darkness, and Snips, Snails and Dragon Tales). An alternate version of the strip appeared monthly in Dragon magazine for 22 issues; these strips, among others, are collected in Snips, Snails and Dragon Tales.
The Order of the Stick began its run on September 29, 2003, on what was (at the time) Rich Burlew's personal site for gaming articles. Burlew initially intended the strip to feature no plot whatsoever—depicting an endless series of gags drawn from the D&D rules instead—but Burlew quickly changed his mind, and began laying down hints of a storyline as early as strip #13. The strip was originally produced to entertain people who came to his website to read articles, but it quickly became the most popular feature, leading Burlew to eventually abandon writing articles almost entirely.
Read more about The Order Of The Stick at Wikipedia
Official Site: Rich Burlew
Researched by: patrickthekid