| | |
| --- | --- |
| Character sourced from: Anime | |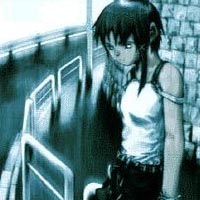 Lain
CBUB Wins: 1
CBUB Losses: 6
Win Percentage: 14.29%
Added by: KiZeR
Read more about Lain at: Wikipedia
Official Site: Geneon Entertainment
Serial Experiments Lain is an anime series directed by Ryutaro Nakamura, original character design by Yoshitoshi ABe, screenplay written by Chiaki J. Konaka, and produced by Yasuyuki Ueda (credited as production 2nd) for Triangle Staff. It was broadcast on TV Tokyo from July to September 1998. A PlayStation game with the same title was released in November 1998 by Pioneer LDC.
Lain is influenced by philosophical subjects such as reality, identity, and communication. The series focuses on Lain Iwakura, an adolescent girl living in suburb Japan, and her introduction to the Wired, a global communications network similar to the Internet. Lain lives with her middle class family, which consists of her inexpressive older sister Mika, her cold mother, and her computer-obsessed father. The first ripple on the pond of Lain's lonely life appears when she learns that girls from her school have received an e-mail from Chisa Yomoda, a schoolmate who committed suicide. When Lain receives the message at home, Chisa tells her (in real time) that she is not dead, but has just "abandoned the flesh", and has found God in the Wired. From then on, Lain is bound to a quest which will take her ever deeper into both the network and her own thoughts.
The anime series was licensed in North America by Geneon (previously Pioneer Entertainment) on DVD, VHS and LaserDisc. However, Geneon closed its USA division in December 2007, and at that time the series went out-of-print. It is currently available in the USA through Netflix. It was also released in Singapore by Odex. The video game, which shares only the themes and protagonist with the series, was never released outside Japan. At Anime Expo 2010, North American distributor Funimation Entertainment announced that they have rescued the series along, with a handful of former Geneon properties and will be re-released in 2011.
The series shows influences from topics such as philosophy, computer history, cyberpunk literature and conspiracy theory, and it was made the subject of several academic articles. English language anime reviewers found it to be "weird" and unusual, with generally positive reviews. Producer Ueda said he intended Japanese and American audiences to form conflicting views on the series, but was disappointed in this regard, as the impressions turned out to be similar.
No match records for this character.