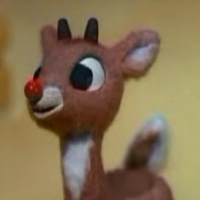 Rudolph the Red-Nosed Reindeer
CBUB Wins: 3
CBUB Losses: 3
Win Percentage: 50.00%
Added by: DSkillz
Read more about Rudolph the Red-Nosed Reindeer at: Wikipedia
Official Site: Public Domain
Rudolph the Red-nosed Reindeer is a reindeer with a glowing red nose. He is popularly known as "Santa's 9th Reindeer" and, when depicted, is the lead reindeer pulling Santa's sleigh on Christmas Eve. The luminosity of his nose is so great that it illuminates the team's path through inclement winter weather.
Rudolph first appeared in a 1939 booklet written by Robert L. May and published by Montgomery Ward.
The story is owned by The Rudolph Company, L.P. and has been adapted in numerous forms including a popular song, a television special, and a feature film. Character Arts, LLC manages the licensing for the Rudolph Company, L.P. Although the story and song are not public domain, Rudolph has become a figure of Christmas folklore.
Robert L. May created Rudolph in 1939 as an assignment for Montgomery Ward. The retailer had been buying and giving away coloring book for Christmas every year and it was decided that creating their own book would save money. May considered naming the reindeer "Rollo" and "Reginald" before deciding upon using the name "Rudolph". In its first year of publication, 2.4 million copies of Rudolph's story were distributed by Montgomery Ward. The story is written as a poem in the meter of "'Twas the Night Before Christmas". "Rudolph The Red-Nosed Reindeer" is loved by millions and still selling copies. Publication and reprint rights for the book "Rudolph The Red-Nosed Reindeer" are controlled by Pearson Plc.