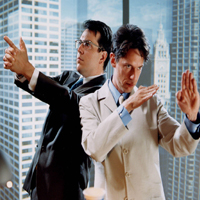 They Might Be Giants
CBUB Wins: 0
CBUB Losses: 1
Win Percentage: 0%
Added by: Schornforce
Read more about They Might Be Giants at: Wikipedia
Official Site: TMBG
They Might Be Giants (TMBG) are an American alternative rock band formed in 1982 by John Flansburgh and John Linnell. During TMBG's early years Flansburgh and Linnell were frequently accompanied by a drum machine. In the early nineties, TMBG became a full band. Currently, the members of TMBG are Flansburgh, Linnell, Marty Beller, Dan Miller, and Danny Weinkauf. They are best known for an unconventional and experimental style of alternative music. Over their career, the group has found success on the modern rock and CMJ charts. More recently they have found success in the children's music genre, and in theme music for several television programs and films.
To date, TMBG have released 14 studio albums. Flood has been certified platinum and their children's music album Here Come the ABCs has been certified gold. The band has won two Grammy Awards, one in 2002 for their song "Boss of Me", which served as the theme to Malcolm in the Middle. They won their second in 2009 for their album Here Come the 123s. The band has sold over 4 million records.
Linnell and Flansburgh (often nicknamed "the two Johns" or "John and John") first met as teenagers growing up in Lincoln, Massachusetts. They began writing songs together while attending Lincoln-Sudbury Regional High School but didn't officially form a band at that time. The two attended separate colleges after high school (Flansburgh attended Pratt Institute), and Linnell joined The Mundanes, a New Wave group from Rhode Island. The two reunited in 1981 after moving to Brooklyn (to the same apartment building on the same day) to continue their career.
Taking their name from the 1971 movie They Might Be Giants, the duo began performing their own music in and around New York City — Flansburgh on guitar, Linnell on accordion and saxophone, and accompanied by a drum machine and/or a prerecorded backing track on audio cassette. Their atypical instrumentation, along with their songs which featured unusual subject matter and clever wordplay, soon attracted a strong local following. Their performances also featured absurdly comical stage props such as oversized fezzes and large cardboard cutout heads of newspaper editor William Allen White. Many of these props would later turn up in their first music videos.
No match records for this character.