| | |
| --- | --- |
| Character sourced from: Anime | |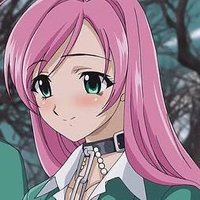 Moka Akashiya
CBUB Wins: 1
CBUB Losses: 0
Win Percentage: 100.00%
Added by: patrickthekid
Read more about Moka Akashiya at: Wikipedia
Official Site: Shonen Jump
is a fictional character from the Japanese anime and manga series, Rosario + Vampire. The female protagonist, she is a sweet and kind-hearted vampire and the first to befriend Tsukune Aono, the human male protagonist, and despite the danger it entails for him, he remains on campus, with one of his motivations for staying with Moka. In the Japanese version of the anime, her voice actress is Nana Mizuki, who is also responsible for performing the theme songs for both anime seasons. In the English version, Outer Moka is voiced by Alexis Tipton, while Inner Moka is voiced by Colleen Clinkenbeard.
Cheerful and positive, age 15 Moka's natural good looks get the attention of all the males in Yokai Academy (as well as problems with a few of the females including Kurumu, as seen in chapter 2). Though good natured, she possesses a bit of naivety that draws her into problematic situations. While initially distrustful of humans, having spent almost her entire life in the human world until middle school where she was being made fun of by her fellow students, she eventually grows to care for the only human on campus, Tsukune Aono. Her bond with him grows stronger over time, to the point where he begins allowing her to ingest his blood without protest, just so she remains healthy. When it appears in the story Tsukune will be expelled, Moka states she would rather drop out and go with him because she cannot bear the thought of them being separated. She is also good friends with Kurumu, who considers herself and Moka "best friends" despite their rivalry for Tsukune's affection.
In Rosario + Vampire: Season II with the introduction of Moka's half-sister, Kokoa Shuzen, prior to the "Inner Moka" being sealed, the two developed a brief rivalry. Kokoa became distressed when she was sealed, and spent the next years chasing her sister in order to fight and talk to her inner self. While Inner Moka loves Kokoa as a sibling, she finds her younger sister "too clingy", and Outer Moka dislikes Kokoa's penchant for attacking her constantly in order to force out her other personality.
Oddly, Outer Moka's appearance is exactly like that of her mother's, Akasha Bloodriver. Later in the manga's second serialization, it is shown that the reason for this is that Outer Moka is a fake personality that her rosario created by Akasha, and the purpose of Outer Moka is to protect the seal and body of Inner Moka while Inner Moka is asleep. However, even though they share the same body and mind with one another, both Mokas are considered to be "real personalities."
No match records for this character.
Regular play Record:
| Result | Opponent | A Score | | B Score |
| --- | --- | --- | --- | --- |
| Win | Colossus | 7 | to | 6 |