| | |
| --- | --- |
| Character sourced from: Gaming | |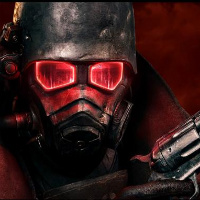 The Courier
CBUB Wins: 0
CBUB Losses: 2
Win Percentage: 0%
Added by: AVP vs The Terminator
Read more about The Courier at: Wikipedia
Official Site: Obsidian Entertainment
Fallout: New Vegas is a role-playing video game in the Fallout series developed by Obsidian Entertainment (many employees of which worked for Black Isle Studios on Fallout and Fallout 2) and published by Bethesda Softworks. The game is based in a post-apocalyptic environment in and around Las Vegas, Nevada. It was released for Microsoft Windows, PlayStation 3 and Xbox 360 in October 2010.
Even though it directly succeeds it in order of Fallout game releases and also shares its engine, Fallout: New Vegas is not a direct sequel to Fallout 3. Though the game offers a similar role-playing experience to Fallout 3 and a few events from the game are mentioned , no characters from Fallout 3 make an appearance. However, the game marks the return of many elements found in previous Fallout titles, including Marcus, a super-mutant from Fallout 2, again voiced by Michael Dorn. as well as the Enclave making another small appearance. It also incorporates plot lines and ideas that would have appeared in the first scheduled Fallout 3, codenamed Van Buren, such as the Hoover Dam and the New California Republic's fight against Caesar's Legion for control of the Mojave Desert.
Obsidian Entertainment presents new features and improvements in Fallout: New Vegas that are implemented upon the foundation of Fallout 3. For example, the original Fallout 3 version of the Gamebryo engine was reworked in order to accommodate the extra lights and effects of the New Vegas strip.
The Vault-Tec Assisted Targeting System, or "V.A.T.S.", returns with the addition of several V.A.T.S.-specific attacks. The modification system allows for modifications such as mounted telescopic sights, rate of fire modifiers and increased magazine size. Crafting also plays a role in weaponry, with the ability to craft ammunition such as hand-loaded rounds. A plant-harvesting system similar to that of The Elder Scrolls series is also in place, allowing the player to use plants to craft special meals, poisons, and medicines.