| | |
| --- | --- |
| Character sourced from: Sci-Fi | |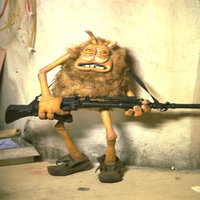 Wam Lufba
CBUB Wins: 2
CBUB Losses: 0
Win Percentage: 100.00%
Added by: Z451
Read more about Wam Lufba at: Wikipedia
Official Site: Lucasfilm
Star Wars Episode VI: Return of the Jedi (originally known simply as Return of the Jedi) is a 1983 American epic space opera film directed by Richard Marquand and written by George Lucas and Lawrence Kasdan. It is the third film released in the Star Wars saga, and the sixth in terms of the series' internal chronology. It is the first film to use THX technology.
The film is set approximately one year after Star Wars Episode V: The Empire Strikes Back. The evil Galactic Empire, with the help of the villainous Darth Vader, is building a second Death Star in order to crush the Rebel Alliance. Since Emperor Palpatine plans to personally oversee the final stages of its construction, the Rebel Fleet launches a full-scale attack on the Death Star in order to prevent its completion and kill Palpatine, effectively bringing an end to the Empire. Meanwhile, Luke Skywalker, a Rebel leader and Jedi Knight, struggles to bring his father, Darth Vader, himself a fallen Jedi, back from the Dark Side of the Force.
The film was released in theaters on May 25, 1983, receiving mostly positive reviews. The film grossed over $475 million worldwide. Several home video and theatrical releases and revisions to the film followed over the next 20 years. It was the last Star Wars film released theatrically until Star Wars Episode I: The Phantom Menace began the prequel trilogy in 1999.
The Rebel Alliance learns that the Empire has been constructing a new Death Star. In a plan to destroy the new weapon, Han leads a strike team to destroy the battle station's shield generator on the moon Endor, allowing a squadron of starfighters to enter the incomplete superstructure and destroy the station from within. Returning from Dagobah, Luke joins the strike team along with Leia and the others. The strike team travels to Endor in an Imperial shuttle; Vader senses Luke's presence on the shuttle, but lets them through so that they will be ambushed by the Imperial forces lying in wait on Endor. Sensing Vader's presence, Luke fears he is endangering the mission by his presence.
No match records for this character.