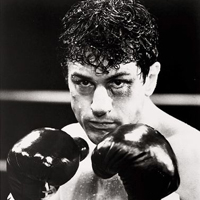 Jake LaMotta
CBUB Wins: 0
CBUB Losses: 2
Win Percentage: 0%
Added by: Cylon Commander
Read more about Jake LaMotta at: Wikipedia
Official Site: United Artists
Raging Bull is a 1980 American biographical film directed by Martin Scorsese, adapted by Paul Schrader and Mardik Martin from the Jake La Motta memoir Raging Bull: My Story. It stars Robert De Niro as Jake LaMotta, a middleweight boxer whose sadomasochistic rage, sexual jealousy, and animalistic appetite exceeded the boundaries of the prizefight ring, and destroyed his relationship with his wife and family. Also featured in the film are Joe Pesci as Joey, La Motta's well intentioned brother and manager who tries to help Jake battle his inner demons, and Cathy Moriarty as his abused wife. The film features supporting roles from Nicholas Colasanto, Theresa Saldana, and Frank Vincent.
Scorsese was partially convinced by De Niro to develop the project, though he eventually came to relate to La Motta's story. Schrader re-wrote Martin's first screenplay, and Scorsese and De Niro together made uncredited contributions thereafter. Pesci was an unknown actor prior to the film, as was Moriarty, who was suggested for her role by Pesci. During principal photography, each of the boxing scenes were choreographed for a specific visual style and De Niro gained approximately to portray La Motta in his early post-boxing years. Scorsese was exacting in the process of editing and mixing the film, expecting it to be his last major feature.
After receiving mixed initial reviews (and criticism due to its violent content), it went on to garner a high critical reputation and is now widely regarded among the greatest films ever made. It was listed in the National Film Registry in 1990, its first year of eligibility.
In 1964, an aging, overweight Jake LaMotta (Robert De Niro) practices a comedy routine. A flashback to 1941 shows his first loss in a major boxing match, against Jimmy Reeves. Jake's brother Joey LaMotta (Joe Pesci) later discusses a potential shot for the middleweight title with one of his Mafia connections, Salvy Batts (Frank Vincent). Some time thereafter, Jake spots a 15-year-old girl named Vickie (Cathy Moriarty) at an open-air swimming pool in his Bronx neighborhood. He eventually pursues a relationship with her, even though he is already married. Jake defeats Sugar Ray Robinson once in 1943 but loses to him three weeks later when the judges rule in favor of Robinson because he was leaving the sport temporarily for conscription in the U.S. Army. Jake is married to Vickie and Joey is also married by 1947. As Jake's fears grow about Vickie having feelings for other men, particularly Tony Janiro, the opponent for his forthcoming fight, he shows off his sexual jealousy when he defeats Janiro in front of the local Mob boss, Tommy Como (Nicholas Colasanto) and Vickie. As Joey discusses the victory with journalists at the Copacabana, he is distracted by seeing Vickie approach a table with Salvy and his crew. Joey speaks with Vickie, who says she is giving up on his brother. Blaming Salvy, Joey viciously attacks him in a fight that spills outside of the club. Como later orders them to apologize, and has Joey tell Jake that if he wants a chance at the championship title, which he has control over, he will have to take a dive first. In a match against Billy Fox, Jake does not even bother to put up a fight. He is suspended shortly thereafter from the board on suspicion of throwing the fight, though he realizes the error of his judgment when it is too late. Despite the suspension, he eventually wins the middleweight championship title against Marcel Cerdan in 1949.
No match records for this character.