Ulik

CBUB Wins: 0
CBUB Losses: 1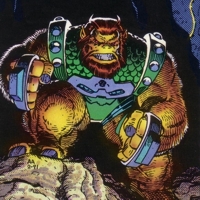 Ulik is a fictional character that appears in comic books published by Marvel Comics. Ulik was created by Stan Lee and Jack Kirby, and first appears in Thor #137 (Feb. 1967).
Debuting in the Silver Age of Comic Books, Ulik has appeared in over four decades of Marvel continuity, principally as a member of the character Thor's Rogues' Gallery. The character has also appeared in other Marvel-related products including animated television series; toy and trading cards.
Debuting in Thor #137 (Feb. 1967), writer Mike Conroy noted "In a strip as steeped in Norse mythology as Marvel's Thor, it was no surprise to come across a troll as big and mean as Ulik." Created as a physical equal for the Thunder God, the Asgardian troll Ulik guest starred in an initial trilogy in Thor #137 - 139 (Feb. - Apr. 1967).
Ulik became a perennial villain in the title, and notable appearances included Thor #151 - 154 (April - July 1968); #210 - 211 (April - May 1973); #237 - 239 (July - Sep. 1975); #252 (Oct. 1976); #413 - 414 (Jan. - Feb. 1990) and #430 - 431 (March - April 1991).
Read more about Ulik at Wikipedia
Official Site: Marvel Entertainment
Researched by: razorback
| Result | Opponent | A Score | | B Score |
| --- | --- | --- | --- | --- |
| Loss | Chernabog | 7 | to | 14 |