Python

CBUB Wins: 0
CBUB Losses: 1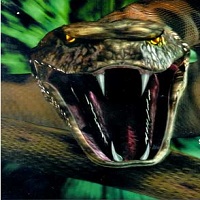 Python (2000) is a made-for-TV horror movie directed by Richard Clabaugh. The film features several cult favorite actors, including William Zabka of The Karate Kid fame, Wil Wheaton, Casper Van Dien, Jenny McCarthy, Keith Coogan, Robert Englund (best known for his role as Freddy Krueger in the A Nightmare on Elm Street series of films), and Sean Whalen.
The film concerns a genetically engineered snake, a python, that escapes and unleashes itself on a small town. It includes the classic final girl scenario evident in films like Friday the 13th. It was filmed in Los Angeles, California and Malibu, California.
Python was followed by two sequels: Python II (2002) and Boa vs. Python (2004), both also made-for-TV films.
The crew of a plane flying gets nervous when the cargo it is carrying starts making noises and shifting. When one of the crew opens the crate, the pilot hears screams from the back. Something attacks him, causing the plane to crash near a town called Ruby. The cargo survives the crash and begins attacking Ruby citizens, starting with a lesbian couple camping in the woods.
Read more about Python at Wikipedia
Official Site: 20th Century Fox
Researched by: Boratz
| Result | Opponent | A Score | | B Score |
| --- | --- | --- | --- | --- |
| Loss | Anaconda | 6 | to | 11 |