| | |
| --- | --- |
| Character sourced from: Anime | |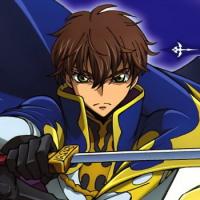 Suzaku Kururugi
CBUB Wins: 0
CBUB Losses: 1
Win Percentage: 0%
Added by: patrickthekid
Read more about Suzaku Kururugi at: Wikipedia
Official Site: Bandai Entertainment
is a fictional character in the Sunrise anime series Code Geass: Lelouch of the Rebellion. He is voiced by Takahiro Sakurai, while his child self is voiced by Akeno Watanabe. In the English dub, he is voiced by Yuri Lowenthal and his child self is voiced by Laura Bailey.
Suzaku Kururugi, born on July 10, 2000 a.t.b., is the son of Japan's last prime minister, Genbu Kururugi. His existence was kept a secret from the public until after the war. Suzaku met Lelouch Lamperouge and his sister Nunnally when they moved to the Kururugi residence as a diplomatic peace trade. At first, Suzaku despised Lelouch because he thought that he was a prince who didn't care about anyone. As time passed by, however, he came to know Lelouch better, and they soon became best friends. They become separated when Britannia invaded Japan, but are reunited in the Shinjuku Ghetto.
When Britannia began its invasion of Japan, Suzaku was mortified by the violence and his father's belief that resisting to the bitter end was preferable to surrender. Unable to change his father's mind, Suzaku murdered him during a heated exchange. The incident was covered up and Suzaku's life was spared, while the government was thrown into disarray and surrendered to Britannia. Lelouch believes that, had Genbu lived, Japan would have likely been torn apart by war once the other major powers decided to intervene. His guilt over the incident causes Suzaku to constantly place himself on the frontlines in the hope of atoning for his actions with his death. It also inspires his belief that the ends achieved by using the wrong means are meaningless, since he created peace through murder. However, after firing the F.L.E.I.J.A. warhead, under the command of Lelouch's Geass, he abandons this belief and decides to achieve his goals regardless of the means. This causes him to finally join Lelouch.
Suzaku is introduced in the first episode of the series as an Honorary Britannian soldier. While searching the Shinjuku ghetto for poison gas stolen by resistance members, he finds Lelouch standing next to it. He refuses to carry out an order to kill Lelouch, and is shot by his superior officer for his insubordination. However, the bullet is stopped by a broken pocket watch belonging to his deceased father.
No match records for this character.
Regular play Record:
| Result | Opponent | A Score | | B Score |
| --- | --- | --- | --- | --- |
| Loss | Megatron | 7 | to | 26 |