Magus (Technarchy)

CBUB Wins: 4
CBUB Losses: 2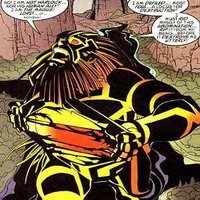 The Magus is a fictional character in the Marvel Universe.
The Magus is a techno-organic patriarch of an alien civilization, and should not be confused with another character called Magus who is associated with Adam Warlock.
The Magus first appeared in the New Mutants (vol. 1) #18-19 (August-September 1984). He was created by writer Chris Claremont and artist Bill Sienkiewicz. The character and his son, the New Mutant, Warlock, were intended as an homage to Jim Starlin's characters : the original Magus and Adam Warlock.
The character subsequently appeared in The Uncanny X-Men #192 (April 1985), and The New Mutants #46-47 (December 1986-January 1987), and #50 (April 1987). The character did not appear again for many years, until Warlock #7-9 (April-June 2000), and X-Force #2 (May 2008).
Read more about Magus (Technarchy) at Wikipedia
Official Site: Marvel comics
Researched by: shellsbut