| | |
| --- | --- |
| Character sourced from: Gaming | |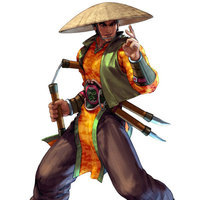 Li Long
CBUB Wins: 1
CBUB Losses: 2
Win Percentage: 33.33%
Added by: patrickthekid
Read more about Li Long at: Wikipedia
Official Site: Namco
is a fictional character in the Soul series of video games. Created by Namco's Project Soul division, he first appeared in Soul Edge, later appearing in both console and arcade versions of Soulcalibur III, as well as on various merchandise related to the series. He is voiced in Japanese by Jin Yamanoi in Soul Edge and Masaya Takatsuka in later appearances; in English, he is voiced by Dan Woren.
Li Long is an assassin, sent to kill a pirate lord only to fail. Taken in by an innkeeper and his daughter, he fell in love with the girl only for her to be apparently killed. Desiring revenge, he battles wandering swordsmen and steals their weapons, while searching for the cursed sword Soul Edge. After being severely beaten by its wielder and now on the run pursued by assassins sent by his former employer, he reflects on who he is with doubt, until he meets a woman reminding him of his lost love. Reinvigorated, Li Long now searches to discover who he is. As a character, Li Long was positively received, and described as "the most dramatic" of the characters in Soul Edge. His replacement by another character later in the series, Maxi, has been criticized by the media, with several sources stating a preference for him.
As a character introduced in Soul Edge, Li Long's weapon, a pair of nunchaku with mounted blades, they were designed to be unique amongst the other weapons in the game. Li Long's design and concept were built to revolve around them, starting with gender, then physical measurements, and lastly background details. After his appearance and movement were fleshed out by a concept artist, his character was rendered as a 3D model by a design team that worked solely on him, and then animated by a motion designer using motion capture to create his in-game movements. During development, many ideas were considered for Li Long's appearance, including several younger drafts. Another idea considered was for him to fight using kung fu, instead of solely with his nunchaku.
Due to a ban of nunchaku weapons in the United Kingdom, his weapon was changed to a three-section staff for European releases of Soul Blade, with a section of staff replacing the chain in terms of appearance. Li Long was initially considered for inclusion for Soulcalibur, however the developers instead decided to focus on creating a new character using the same weapon for the title, resulting in Maxi. Later, due to the character's popularity, Li Long was selected to be included in home and arcade versions of Soulcalibur III. In an interview, Soulcalibur IV director Katsutoshi Sasaki stated many fans had requested for the character to reappear in the series, though added no plans had been made to release the character as downloadable content for the title.
No match records for this character.