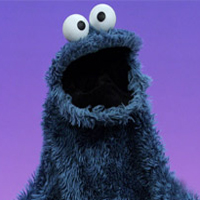 Cookie Monster
CBUB Wins: 1
CBUB Losses: 1
Win Percentage: 50.00%
Added by: Hugo Fowl
Read more about Cookie Monster at: Wikipedia
Official Site: PBS Kids
Cookie Monster is a Muppet on the children's television show Sesame Street. He is best known for his voracious appetite and his famous eating phrases: "Me want cookie!", "Me eat cookie!", and "Om nom nom nom" (said through a mouth full of food). He often eats anything and everything, including danishes, donuts, lettuce, apples, bananas, as well as normally inedible objects. However, as his name suggests, his preferred food is cookie. Chocolate chip cookie are his favorite kind; oatmeal cookies are his second favorite. In a song in 2004, Cookie Monster revealed that, before he ate his first cookie, he believes his name was Sid. Showing awareness of healthy eating habits for children, since 2006 he has said that cookies are "a sometime snack" and that he also likes fruits and eggplant.
He is known to have a mother, a younger sister, and an identically-designed cousin, who all share his characteristic blue fur and "googly eyes". He also has a father, who appeared in a Monsterpiece Theater sketch promoting energy conservation, water conservation and environmentalism. Both Cookie Monster's mother and father have his enormous appetite. He and his Sesame Street friends are popular motifs on T-shirts.
The book Jim Henson's Designs and Doodles explains Cookie Monster's origin as follows: "In 1966, Henson drew three monsters that ate cookies and appeared in a General Foods commercial that featured three crunchy snack foods: Wheels, Crowns and Flutes. Each snack was represented by a different monster. The Wheel-Stealer was a short, fuzzy monster with wonky eyes and sharply pointed teeth. The Flute-Snatcher was a speed demon with a long, sharp nose and windblown hair. The Crown-Grabber was a hulk of a monster with a Boris Karloff accent and teeth that resembled giant knitting needles.
These monsters had big appetites for the snack foods (like cookies) they were named after. Each time the Muppet narrator, a human-looking fellow, fixes himself a tray of Wheels, Flutes and Crowns, they disappear before he can eat them. One by one, the monsters sneak in and zoom away with the snacks. Frustrated and peckish, the narrator warns viewers that "these pesky monsters could be disguised as someone in your own home", at which point the monsters briefly turn into people and then dissolve back to monsters again.
No match records for this character.