Ultimate Spider-Man

CBUB Wins: 1
CBUB Losses: 1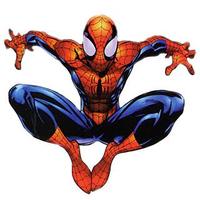 Ultimate Spider-Man was a superhero comic book series that was published by Marvel Comics from 2000 to 2009. The series is a modernized re-imagining of Marvel's long-running Spider-Man comic book franchise as part of its Ultimate Marvel imprint. Ultimate Spider-Man exists alongside other revamped Marvel characters in Ultimate Marvel titles including Ultimate X-Men, Ultimate Fantastic Four, and the Ultimates.
The protagonist of Ultimate Spider-Man is Peter Parker, a science whiz teenager who lives in Queens, New York. He is bitten by a genetically altered spider and inherits its powers, including enhanced strength, agility and reflexes. When an armed thief, whom Peter had a chance to stop earlier but didn't, kills his uncle Ben, he feels guilty and dedicates his life to fighting crime as the costumed vigilante Spider-Man. Peter tries to balance school, a job, a girlfriend, his family life with his widowed aunt May, and his activities as Spider-Man.
Ultimate Spider-Man first saw print in 2000 under veteran Spider-Man artist Mark Bagley and writer Brian Michael Bendis, who expanded the original 11-page origin story into a 180-page, seven issue story arc. This duo continued to collaborate until issue #111, when Mark Bagley left the book and was replaced by Stuart Immonen. Bendis and Bagley's run on Ultimate Spider-Man set the record for longest continual run on a Marvel Comics series by two people, an honor previously held by Stan Lee and Jack Kirby on Fantastic Four. After issue #133, the series was relaunched as Ultimate Comics: Spider-Man, still written by Brian Michael Bendis with art provided by David Lafuente.
Ultimate Spider-Man was the first series to be published in the Ultimate Marvel line. Publisher Bill Jemas wanted to reinvent the Marvel Universe because he felt that, with over 40 years of back-story, it had become inaccessible to new readers, and he wanted to start with a reinvented Spider-Man. Initially, Marvel Editor-in-Chief Joe Quesada was skeptical because 1998's Spider-Man: Chapter One, a previous attempt at re-envisioning Spider-Man's early adventures, had failed both critically and commercially.
Read more about Ultimate Spider-Man at Wikipedia
Official Site: Marvel Comics
Researched by: AVP vs The Terminator