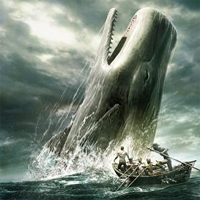 Moby Dick
CBUB Wins: 1
CBUB Losses: 1
Win Percentage: 50.00%
Added by: Venom 2009
Read more about Moby Dick at: Wikipedia
Official Site: Herman Melville
Moby-Dick, also known as The Whale,
In Moby-Dick, Melville employs stylized language, symbol, and metaphor to explore numerous complex themes. Through the main character's journey, the concepts of class and social status, good and evil, and the existence of gods are all examined as Ishmael speculates upon his personal beliefs and his place in the universe. The narrator's reflections, along with his descriptions of a sailor's life aboard a whaling ship, are woven into the narrative along with Shakespearean literary devices such as stage directions, extended soliloquies and asides. The book portrays insecurity that is still seen today when it comes to non-human beings along with the belief that these beings understand and act like humans. The story is based on the actual events around the whaleship Essex, which was attacked by a sperm whale while at sea and sank.
Moby-Dick has been classified as American Romanticism. It was first published by Richard Bentley in London on October 18, 1851, in an expurgated three-volume edition titled The Whale, and weeks later as a single volume, by New York City publisher Harper and Brothers as Moby-Dick; or, The Whale on November 14, 1851. Although the book initially received mixed reviews, Moby-Dick is now considered part of the Western canon.
Melville published Moby-Dick in 1851 during a productive time in American literature, which also produced novels such as Nathaniel Hawthorne's The Scarlet Letter and Harriet Beecher Stowe's Uncle Tom's Cabin. Two actual events inspired Melville's tale. One was the sinking of the Nantucket ship Essex, in 1820 after it was rammed by a large sperm whale 2,000 miles (3,200 km) from the western coast of South America. First mate Owen Chase, one of eight survivors, recorded the events in his 1821 Narrative of the Most Extraordinary and Distressing Shipwreck of the Whale-Ship Essex. Already out-of-print, the book was rare even in 1851. Knowing that Melville was looking for it, his father-in-law, Lemuel Shaw, managed to find a copy and buy it for him. When Melville received it, he fell to it almost immediately, heavily annotating it.
No match records for this character.