| | |
| --- | --- |
| Character sourced from: Gaming | |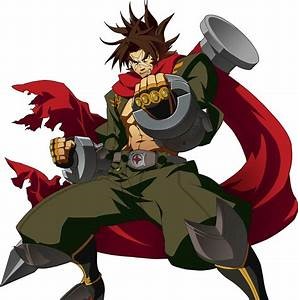 Bang Shishigami
CBUB Wins: 0
CBUB Losses: 1
Win Percentage: 0%
Added by: KibaxHinata
Read more about Bang Shishigami at: Wikipedia
Official Site: Offical Blazblue site
( ) is a fighting game developed by Arc System Works. The game's name is a portmanteau of "blaze" and "blue," with the "z" sound omitted in the Japanese pronunciation, rendering it similar to the word "brave" in pronunciation. The game is currently released for the Taito Type X2 arcade system board, with a 16:9 ratio and 768p resolution. It was released on November 19, 2008 in Japan and November 20, 2008 in the United States. It was released on the PlayStation 3 and Xbox 360 home consoles on June 25, 2009 in Japan. A PC port of the game has been announced in Japan and stated to be released on August 26, 2010. A European release of the game is scheduled for an August 20, 2010 release. A port for the PlayStation Portable, titled , was released on February 25, 2010 in Japan. A sequel, also next episode featuring new content and characters, titled has also been released for the arcade, PlayStation 3, and Xbox 360.
BlazBlue is a traditional 2D fighter where two characters participate in a duel on a two dimensional plane. A round is called a "rebel" and one match can consist of one to five "rebels". To win a round, one player must either incapacitate the other by inflicting damage through various attacks to reduce health or by having more remaining health after the clock runs out if the rules of the match has one.
Every character has a weak, medium and strong attack. Also every character has a "unique" technique, called a Drive attack, which is different for each character. Those attacks are also known as "A", "B", "C" and "D". Various combos can be performed by every character through careful input of regular and drive attacks. A combo consists of two or more consecutive attacks that hit an opponent without them retaliating. As combos become longer, each attack will do less damage than normal to give the opponent a chance to retaliate. Grabs can be incorporated into combos also by pressing the "B" and "C" buttons at the same time. Occasionally, some attacks (e.g. Jin's Hirensou) will use portions of the player's heat gauge at the bottom of the screen. The heat gauge is filled by either dealing or receiving damage. When at a certain percentage, special moves called "distortion drives" can be performed. When a distortion drive is successfully performed and connects with the opponent, it deals massive damage and is visually flashier than normal attacks.
Along with attacks every character has two types of block. One is the regular block that can be broken with a "guard crush". That can be achieved by pushing the "guard libra" gauge all the way to the opponent's side through repeated attacks. If the opponent keeps blocking, then their guard can be broken, leaving them open for attack. The second type of block is a barrier block, which is initiated by blocking while holding the "A" and "B" buttons at the same time. A barrier block cannot be broken like a normal guard, but there is a limit on how long one can be held, which is indicated by the barrier gauge. If the barrier gauge empties, then the player will receive 150% damage until it regenerates to half-full.


Images with a green border may be set as the character's main profile image.
For images 200x200 or 300x300 pixels square.
No match records for this character.