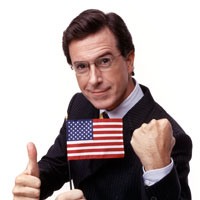 Stephen Colbert (Character)
CBUB Wins: 2
CBUB Losses: 4
Win Percentage: 33.33%
Added by: videogameman
Read more about Stephen Colbert (Character) at: Wikipedia
Official Site: Himself & Comedy Central
The Rev. Sir Dr. Stephen T. Colbert, D.F.A. ( ), is the persona of political satirist Stephen Colbert, portrayed most notably on The Colbert Report. Described as a "well-intentioned, poorly informed high-status idiot", the character is a self-obsessed right-wing commentator. He incorporates aspects of the real Colbert's life and interests, but is modeled primarily as a parody of cable news pundits, particularly Bill O'Reilly.
Colbert first appeared as a correspondent on Comedy Central's news parody series The Daily Show in 1997 and remained a regular contributor until 2005, when he left to host The Colbert Report, a spin-off show satirizing personality-driven political pundit programs. He has also been featured in a number of other public performances, most notably at the 2006 White House Correspondents' Association Dinner, and as the author of the 2007 book I Am America (And So Can You!).
Colbert's earliest mainstream exposure came in the primetime sketch comedy program The Dana Carvey Show. While only lasting seven episodes in early 1996, it provided Colbert with roles that would help forge his future onscreen persona. This was largely due to its format of delivering sketch performances directly to the camera. Although they did not air, several sketches inspired by The Onion also had Colbert playing a deadpan anchor delivering the news. In an interview with The New York Times regarding The Dana Carvey Show, Colbert noted, "If you have an opportunity to give it right to the audience, there's a special connection that you make by looking at the camera".
Upon the show's cancellation, Colbert was cast for The Daily Show by co-creator Madeleine Smithberg. This was thanks to his performance as a nauseated waiter on The Dana Carvey Show.