Wayne & Garth

CBUB Wins: 0
CBUB Losses: 1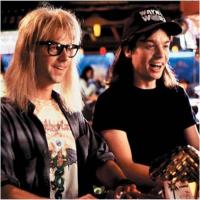 Wayne's World was originally a recurring sketch from the NBC television series Saturday Night Live. It evolved from a segment titled "Wayne's Power Minute" on the CBC Television series It's Only Rock and Roll, as the main character first appeared in that show. The Saturday Night Live sketch spawned two films, and several catchphrase which have since entered the pop-culture lexicon. The sketch centered on a local cable access television program in Aurora, Illinois, hosted by Wayne Campbell (Mike Myers, the same actor from "Wayne's Power Minute"), an enthusiastic and sardonic long-haired metalhead, and his timid and sometimes high-strung, yet equally metal-loving sidekick and best friend, Garth Algar (Dana Carvey). Wayne lives with his parents and broadcasts his show "live" from the basement of their house every Friday evening at 10:30.
The "show" would open with Wayne and Garth singing the lyric to the opening theme, "Wayne's World! Wayne's World! Party time! Excellent!", accompanied by Wayne's frantic strumming of his guitar, and Garth drumming on his lap with drum sticks. The two would introduce themselves (Garth: "Party on, Wayne." Wayne: "Party on, Garth.") and then proceed to go into their various exploits, including discussions of their love of hard rock bands and "babes", as well as juvenile antics, such as the "Extreme Close-Up" (where a camera would zoom in on Wayne and Garth as they screamed) and tricking their unsuspecting guests into saying vulgar words. Garth would frequently get over-excited and lose control, to which Wayne would have to tell him, "take your Ritalin".
Sketches also often included dream sequence where Wayne and Garth imagine themselves in fantasy settings. The sequences were introduced with Wayne and Garth Algar imitating a stereotypical television fade-out by waving their arms in front of them and imitating a commonly used fade-out sound effect accompanied by an excerpt from Gary Wright's "Dream Weaver". Notable dream sequences include Wayne defeating Wayne Gretzky in a one-on-one hockey game, to which Janet Jones runs to kiss Wayne, and Wayne and Garth meeting Madonna in a spoof of her Truth or Dare film and controversial music video for "Justify My Love". Wayne dares Madonna to make out with him while Garth Algar is seen dancing in a parody of the video.
In the early sketches, Wayne and Garth are high school students, and their guests on the show included their teachers (including one played by Ed O'Neill, who would later play a very similar character in both films), and other students from school (such as Nancy, a "babe" played by Jan Hooks). Other frequent guests included Garth's father, "Beev" (so named because of his teeth, played by Phil Hartman), who was often ridiculed by Wayne despite the fact that he was married to a babe (Candice Bergen). In later appearances, however, Wayne and Garth appear to be young adults, (although Wayne still lives with his parents—a theme which would carry over to the first film), and their discussions shifted more towards current events and pop-culture phenomena, with the show featuring actual celebrity guests.
Read more about Wayne & Garth at Wikipedia
Official Site: NBC
Researched by: patrickthekid