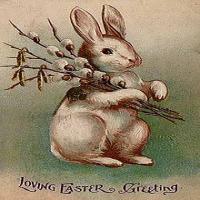 Easter Bunny
CBUB Wins: 2
CBUB Losses: 2
Win Percentage: 50.00%
Added by: ND7
Read more about Easter Bunny at: Wikipedia
Official Site: Public Domain
The Easter Bunny or Easter Hare (sometimes Spring Bunny in the U.S. ) is a character depicted as a rabbit bringing Easter egg, who sometimes is depicted with clothes. In legend, the creature brings baskets filled with colored eggs, candy and sometimes also toys to the homes of children on the night before Easter. The Easter Bunny will either put the baskets in a designated place or hide them somewhere in the house or garden for the children to find when they wake up in the morning.
The Easter Bunny is very similar in trait to its Christmas holiday counterpart, Santa Claus, as they both bring gifts to children on the night before their respective holiday. It was first mentioned in Georg Franck von Frankenau's De ovis paschalibus (About the Easter Egg) referring to an Alsace tradition of an Easter Hare bringing Easter Eggs (and the negative impact of too much egg consumption).
Bringing Easter eggs seems to have its origins in Alsace and the Upper Rhineland, both then in the Holy Roman Empire, and southwestern Germany, where the practice was first recorded in a German publication in the early 17th century. The first edible Easter Eggs were made in Germany during the early 19th century and were made of pastry and sugar.
The Easter Bunny was introduced to the United States by the German settlers who arrived in the Pennsylvania Dutch country during the 18th century. The arrival of the Osterhase was considered one of "childhood's greatest pleasures", similar to the arrival of Chris Cringle on Christmas Eve.
Regular play Record:
| Result | Opponent | A Score | | B Score |
| --- | --- | --- | --- | --- |
| Loss | Santa Claus | 2 | to | 28 |