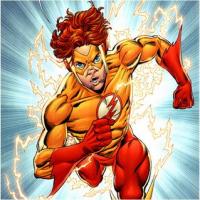 Kid Flash
CBUB Wins: 0
CBUB Losses: 1
Win Percentage: 0%
Added by: patrickthekid
Read more about Kid Flash at: Wikipedia
Official Site: DC Comics
Kid Flash is the name of several fictional characters appearing in comic book published by DC Comics, originally created by John Broome and Carmine Infantino, as a junior counterpart to DC Comics superhero The Flash. The first incarnation of the character, Wally West, debuted in The Flash (vol. 1) #110 (1959). The character, along with others like the first Wonder Girl, Aqualad, and Speedy, was created in response to the success of Batman's young sidekick Robin. These young heroes would later be spun off into their own superhero team, the Teen Titans. As Kid Flash, Wally West made regular appearances in Flash related comic books and other DC Comics publications from 1959 through the mid 1980s until the character was reinvented as the new version of The Flash.
Later, well after Wally West had made a name for himself as the new Flash, the character of Bart Allen, grandson of legendary Flash Barry Allen, was brought into the past from his home in the future and served as the young hero Impulse. In 2003, with writer Geoff Johns' relaunch of a new Teen Titans volume, Bart donned the mantle of Kid Flash after being nearly killed by the assassin Deathstroke. As Kid Flash, Bart appeared in Teen Titans and The Flash (vol. 2) regularly until the Infinite Crisis event, where a disappearance of Wally West made Bart the fourth Flash. Apparently killed by the Rogues, Bart was resurrected in the 31st century by Legion of Super-Heroes member Brainiac 5 and retook the mantle of Kid Flash.
Outside of Iris West, Kid Flash was the first person to whom Flash revealed the secret of his double-identity (Flash #120, May, 1961). In that story, the two speedsters were inadvertently thrown 25 million years into the past, where they battled a race of golden humanoids. It was only the first of many time-trips for the pair, who teamed up next to try out Flash's Cosmic Treadmill.
Shortly after meeting Flash's friend Elongated Man, Kid Flash received his own unique uniform. The Flash, who had been toying with a new design for Wally, was inspecting an alien mind over-matter machine when, in a burst of light, the new costume sprang from his mind and onto the body of his protégé . Since the new outfit exposed Wally's bright red hair, FIash provided his costume-storage ring with a special instant-dye spray with which he could easily change his hair color, as Wally, to brown.
No match records for this character.