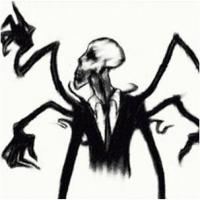 Slender Man
CBUB Wins: 5
CBUB Losses: 6
Win Percentage: 45.45%
Added by: patrickthekid
Read more about Slender Man at: Wikipedia
Official Site: Public Domain
Slender Man (also known as Slendy, The Tall One, The Faceless Man, The Operator, Der Ritter, and Der Großman; the last 2 are German, where he mythically came from) is an internet meme and urban legend of an unnaturally tall, thin, humanoid paranormal entity. Originating on the Something Awful forums in a thread meant to manufacture paranormal images, Slender Man's popularity quickly grew outside the website and he became an internet phenomenon. Many blogs and video clips sprouted up portraying the ominous figure and his victims, and Slender Man has grown to be one of the biggest and most elaborate collaborative writing projects on the internet.
Slender Man was first depicted in the Something Awful forums in a thread for "paranormal pictures" on June 8th, 2009. The original images were posted by user Victor Surge and was inspired largely by H.P. Lovecraft, Stephen King, and several survival-horror genre video games (especially Silent Hill and Resident Evil).
The original post of Slender Man had two pictures with accompanying captions. The first image shows several children walking in what appears to be a field, with a blurred and obscured Slender Man standing behind them with his arms held outward. His faceless head is clearly visible. The accompanying caption read: "We didn't want to go, we didn't want to kill them, but its persistent silence and outstretched arms horrified and comforted us at the same time..."
1983, photographer unknown, presumed dead.

Images with a green border may be set as the character's main profile image.
For images 200x200 or 300x300 pixels square.