Raoh The Conqueror

CBUB Wins: 1
CBUB Losses: 1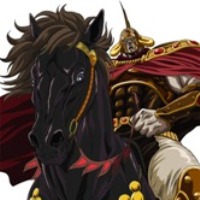 is a fictional character in the Fist of the North Star manga franchise by Buronson and Tetsuo Hara. He is the eldest of four honorary brothers who trained alongside the protagonist Kenshiro in the ancient assassination art of Hokuto Shinken. Following his introduction in Chapter 42 of the original manga, Raoh serves as Kenshiro's primary rival and adversary during a great portion of the series, having already taken the mantle of , a tyrannical warlord that seeks to dominate the post-apocalyptic world. In contrast to Kenshiro's title as the "Savior of Century's End", Raoh is commonly referred as the within the story.
Raoh figures prominently throughout the remainder of the manga following the conclusion of his story arc and would continue serving as a central character in related works published following the conclusion of the original manga and its anime adaptation. He serves as a central character in The Legends of the True Savior movie series and was the protagonist in his own spinoff manga and anime series Legends of the Dark King.
Raoh is the eldest of the four adopted children trained by Ryuken, the previous Hokuto Shinken master. The manga and anime gives two different origins thorough the course of the story. In his first origin, Raoh and his biological younger brother Toki, were adopted by Ryuken after their real parents died. A second origin shows that a young Raoh and Toki, along with an infant Kenshiro, were actually refugees from the Kingdom of Shura who were sent to Japan to be trained in the art of Hokuto Shinken by Ryuken after their homeland was torn apart by a civil war.
Raoh trained under Ryuken along with Toki and Kenshiro, as well as another student named Jagi. In spite of his ambitions to become the greatest martial artist in the world, Raoh lost the rights to the Hokuto Shinken succession to Kenshiro. Refusing to give up the style, Raoh killed his sifu Ryuken in combat and leaves to become the savior of the world.
Read more about Raoh The Conqueror at Wikipedia
Official Site: Raijin Comics
Researched by: LoneWolf