| | |
| --- | --- |
| Character sourced from: Anime | |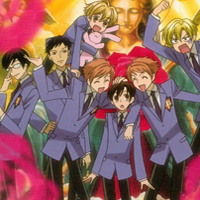 Ouran High School Host Club
CBUB Wins: 1
CBUB Losses: 1
Win Percentage: 50.00%
Added by: Venom 2009
Read more about Ouran High School Host Club at: Wikipedia
Official Site: Funimation
is a manga series by Bisco Hatori, serialized in Hakusensha's LaLa magazine since August 5, 2003. The series follows Haruhi Fujioka, a scholarship student at Ouran High School, and the other members of the popular host club. The romantic comedy focuses on the relationships within and without the Club and satirizes the cliché and stereotype that endure in shōjo. There are also occasional moments where the characters break the fourth wall. The manga has been adapted into a series of audio drama, an animated television series directed by Takuya Igarashi and produced by Bones, and a visual novel by Idea Factory.
Tamaki thought up the Host Club while in ninth grade and started it upon entering the Ouran High School. The members of the Host Club are highest ranking students at the school. At Ouran High School, class is determined by lineage and intelligence ("A" is the highest class and "D" the lowest; usually consisting of the kids of Yakuza leaders). All the members are in class A and tend to be number one or two in their class, coming from the wealthiest families in Japan with the exception of Haruhi. The twins are ranked fourth and fifth in their class and Haruhi is a scholarship student receiving the special privilege of being in class A due to her scholarship status (she is ranked number one in her year).
Customers have the freedom to choose which host will entertain them, playing to their specific needs and interests. Each member of the host club is a specific shōjo "type" designed to suit the varying tastes of female clients (Cool Type, Wild Type/Strong and Silent Type, Loli-shōta Type, Prince Type, Little Devil Type, Natural Type). The twins, Hikaru and Kaoru Hitachiin, and cousins, Takashi Morinozuka ("Mori") and Mitsukuni Haninozuka ("Honey"), showcase their respective close relationships to please or entertain customers. Haruhi Fujioka, who used to be the Host Club's dog in order to pay her debt of 8,000,000 yen, entertains her guests with her naturalness and humbleness. Tamaki Suou is president and leader of the club, while Kyouya Ootori as vice president manages all the events for the club. The Third Music Room has been outfitted by the Club to accommodate their business and, at times, is elaborately decorated according to a specific theme, ranging from a tropical paradise to a traditional picnic, to heighten the customers' pleasure and keep things interesting.
The members of the club include:
No match records for this character.