Nanashi

CBUB Wins: 1
CBUB Losses: 3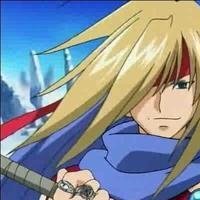 This is a list of characters in the MÄR series developed and designed by Nobuyuki Anzai.
(虎水ギンタ Toramizu Ginta)
The main character of the series. A fun-loving, care-free boy who uses Babbo as his ÄRM. Being originally from another world (Earth) he was originally weak and nerdy (a stereotypical otaku) until he arrived in MÄR-Heaven, where he gained superior physical ability (and clear vision without his glasses), and his path happened to coincide with that of the ÄRM of legend Babbo.
(バッボ, Babbo)
Read more about Nanashi at Wikipedia
Official Site: Viz Media
Researched by: Redwallfan2000