Chop Chop Master Onion

CBUB Wins: 1
CBUB Losses: 0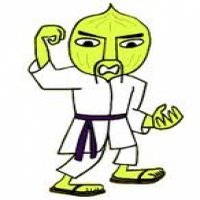 is a rhythm video game for the Sony PlayStation created by Masaya Matsuura (the former leader of the Japanese "Hyper Pop Unit" PSY S) and his NanaOn-Sha company. Released in Japan on December 6, 1996, followed by releases in North America on October 31, 1997 and Europe in September 1998, it was one of the first rhythm video games. While the gameplay is not challenging for experienced gamers, the game is remembered for its unique graphic design, its quirky soundtrack, and its bizarre plot. Despite being made in Japan, all of the game's songs and dialogue are spoken in English in all versions. The game is named after its protagonist, Parappa, a rapping dog with the motto, "I gotta believe!".
It spawned a merchandising campaign in Japan, a spinoff in 1999, an anime series in 2001, and a direct sequel for PlayStation 2 in 2002. A PlayStation Portable port of the original game was released in Japan in December 2006 in North America and Europe in July 2007.
Considered ahead of its time in its day, PaRappa the Rapper is somewhat similar to the classic 1980s game Simon, in which the player is required to repeat a sequence of sounds and buttons. PaRappa the Rapper demands that the player not only get the sequence correct but also the timing of the sequence, in a call and response format. The game provides small portions of spoken vocals that are triggered when the appropriate buttons are pressed. Pressing the buttons in the correct order, with the correct timing, provides an intelligible imitation of the words spoken by the character; pressing the buttons in an incorrect order or with incorrect timing rewards the player with unintelligible gibberish.
Points are awarded for correctness and "style". By simply following the given sequence, the best a player can attain is the "U rappin' GOOD" rating. To get a higher rating, the player must "freestyle"; that is, to deviate from the given sequence but still keep in time with the song's rhythm. Through this method, the player can attain a "U rappin' COOL" rating. A player needs to have completed a level first before a COOL level can be obtained (this is not the case in its sequels). Alternately, if the player continues to play poorly, they may lose points and attain "U rappin' BAD" and "U rappin' AWFUL" ratings. A player drops down a rank after playing two wrong lines in succession, or on occasion an utterly ridiculous line, and can only go back up a level by getting two consecutive good lines.
Read more about Chop Chop Master Onion at Wikipedia
Official Site: Sony
Researched by: Z451
| Result | Opponent | A Score | | B Score |
| --- | --- | --- | --- | --- |
| Win | Dan Hibiki | 11 | to | 10 |