Aang

CBUB Wins: 23
CBUB Losses: 20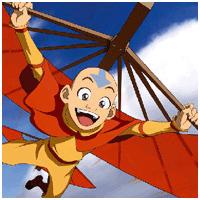 Aang is a fictional character in Nickelodeon's animated television series Avatar: The Last Airbender. The character, created by Michael Dante DiMartino and Bryan Konietzko, is voiced by Zach Tyler Eisen. Aang—the show's main protagonist—has appeared in all but one episode of the show, the exception being "Zuko Alone". Aang also appeared in the pilot episode which has not been aired. Aang has appeared in other media, such as trading card, video game, T-shirt, and web comic.
In the show, Aang is the last surviving Airbender and a monk of the Air Nomads, the only race of people with the unique ability to manipulate the air around them. He is also a supercentenarian at the age of 112. He was in suspended animation for one century, making his biological age twelve. The show follows Aang's journeys to complete this task.
Most of Aang's traits, such as vegetarianism, Aang is the series' reluctant hero, His "lighthearted" personality has been accepted well among critics.
Aang's character was developed from a drawing by Bryan Konietzko. The sketch depicted a middle-aged bald man with an arrow on his head. Konietzko evolved the character into a picture of a child with a flying bison. Meanwhile, Michael Dante DiMartino was interested in a documentary about explorers trapped in the South Pole. The idea caused the pair to think:
Read more about Aang at Wikipedia
Official Site: Nickelodeon
Researched by: Dragoon3k5