| | |
| --- | --- |
| Character sourced from: Anime | |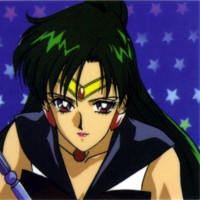 Sailor Pluto
CBUB Wins: 1
CBUB Losses: 0
Win Percentage: 100.00%
Added by: RakaiThwei
Read more about Sailor Pluto at: Wikipedia
Official Site: Toei
is one of the central fictional character in the Sailor Moon metaseries. Her human name is , a college student who can transform into one of the series' specialized heroines, the Sailor Senshi.
Sailor Pluto first appears as a Senshi in the second major story arc, and her civilian form is not shown until the third. She is unique among all the characters in that she is stationed at the Door of Space-Time, with the specific duty of forbidding anyone to pass through it without permission. She has powers that relate to both time and the underworld.
Sailor Pluto is not introduced until late in the Sailor Moon R series. She is the soldier who guards the gates of time. She is first seen contacting Chibiusa through Luna-P. Sailor Pluto refers to Chibiusa as "Small Lady." Chibiusa usually calls Sailor Pluto by the nickname "Puu" (subtitled as "Plu" in the S season subs). She acts as Chibiusa's guardian.
After the events of the second story arc, she leaves the gates of time to temporarily live as a human being, joins the rest of the Outer Senshi, and becomes a university student studying physics. The exact nature of how she leaves her post differs between versions; in the manga, she is reincarnated in present day by Neo-Queen Serenity after sacrificing herself during the second arc, while in the anime Neo-Queen Serenity allows her to leave. Even in her civilian form, Setsuna is the oldest of the Sailor Team, around her late teens or older. Her personality has been described as cold, impersonal, and somewhat lonely, however she does consistently display warmth and affection for Chibiusa. When she reincarnates, she becomes a bit less cold, but is still not very emotional. She later cares for Hotaru along with Michiru and Haruka.
No match records for this character.