| | |
| --- | --- |
| Character sourced from: Anime | |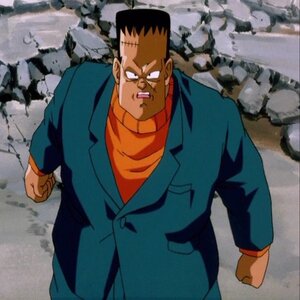 Android 8
CBUB Wins: 4
CBUB Losses: 2
Win Percentage: 66.67%
Added by: Z451
Read more about Android 8 at: Wikipedia
Official Site: Funimation
, is the seventeenth Japanese animated feature film based on the Dragon Ball manga, following the first three Dragon Ball films and thirteen Dragon Ball Z films. It is a re-telling of the original Dragon Ball anime series and is also the longest film in the franchise. It was originally released in Japan on March 4, 1996 at the Toei Anime Fair, along with the movie version of Neighborhood Story. The film was produced to commemorate the tenth anniversary of the Dragon Ball franchise.
Later, in the forest, they are forced to stop because of a bull/ox in the road, who demands the girl. Goku ends up fighting the creature, which turns into a robot, and then a bat. Unfortunately, by then, his five minutes are up, and he turns back into Oolong, the pig. There's no time for apologies though, because Yamcha attacks. He demands all the capsules and money they have, but not before Puar recognizes Oolong and yells at him for his perverted antics at Shapeshifting School. Yamcha fights Goku, and appears to have the upper hand, until Bulma wakes up. This puts him into a state of shock and he is forced to retreat with the help of Puar.
Bulma, Oolong, and Goku are driving northward towards the next Dragon Ball, only to discover a huge metal tower in the distance. (Yamcha and Puar, who have been following them, stay in a cave nearby to keep warm.) Soldiers come out and "welcome" them to Muscle Tower, and Goku takes them all head on. He manages to enter the tower, only to face Sergeant Metallic. He finishes him off quickly though, and discovers (to his shock) that Metallic was a robot. General White of the Red Ribbon Army orders the remaining forces toward Goku, but he plows through them all, up into White's room. White then activates the tower's deadliest creation - Android 8. #8 nearly strangles Goku, but refuses to kill him when ordered. As a result, White threatens to detonate the android, but Goku intervenes and saves him. The two make quick friends, with #8 explaining that he doesn't believe in fighting or killing. Goku complains that his name is weird, so he nicknames him "Eighter" for short. This ends in a snowball fight between the two while the tied-up forces (including White) look on.
Some time later, while driving in Oolong's house-wagon, they almost run over (and then almost fall off a cliff because of) Turtle. He explains that he is quite lost, and needs help getting back to the sea. After they bring him there, he says he has a reward which he will bring back with him the next day. So, Oolong, Goku, and Bulma spend the night on the beach. Goku wakes up early in the morning and tries to sleep in Bulma's lap, but freaks out when he removes her panties and discovers her lack of the male genitalia. That morning, Turtle comes back bearing his "reward" -- Master Roshi, the Turtle Hermit. He first tries to summon the Immortal Phoenix for them, but when that fails (it apparently died), he calls forth the Nimbus Cloud. Goku is the only one of the bunch who can ride it, so it becomes his.

Images with a green border may be set as the character's main profile image.
For images 200x200 or 300x300 pixels square.