She-Ra

CBUB Wins: 3
CBUB Losses: 3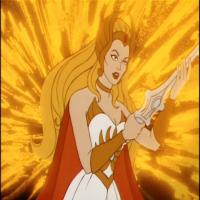 She-Ra is a fictional character and the hero in the Filmation cartoon and series of toys produced by Mattel called She-Ra: Princess of Power. She is the alter ego of Princess Adora and the twin sister of He-Man. She-Ra was intended to appeal to young girls in the same way that He-Man appealed to young boys. Filmation writer Larry DiTillio named the character for Mattel (the original name was He-Ra) and created the backstory for the property.
She-Ra is introduced in the animated movie The Secret of the Sword as Force Captain Adora, an agent of the Evil Horde that rules the planet Etheria. She discovers that she is the long-lost sister of Prince Adam of Eternia, having been stolen by the Horde's leader, Hordak, as a baby. She is granted the Sword of Protection, which parallels He-Man's Sword of Power, gaining the power to transform into She-Ra, her secret identity.
Adora was raised under the care of a Horde servant called Shakra, who was able to provide Adora with some goodness during her early life. When Adora was old enough to begin to serve the Horde, Hordak had Shadow Weaver put Adora under a spell so that she would follow the Horde and not question their ruling methods. Hordak saw great potential in Adora and made her the Force Captain of The Horde. Adora's uniform - which she continued to wear throughout the series, even after defecting to the Rebels - consisted of a red leotard (which suggested a bathing suit except for its long white sleeves) with matching boots and gauntlets, plus a black belt.
The Sorceress begins having strange dreams reminding her of the time when Adora was taken from the royal nursery. She awakes to find a sword floating above her bed. She sees that the Sword is similar to Prince Adam's sword that she had given to him not long ago. The sword seems to beckon to the Sorceress, so she rises from her slumber and follows the sword through the passages of Castle Grayskull. The sword stops before a door which opens to reveal a previously unopened portal, the Sorceress knows the time has come and summons Adam and Cringer to the Castle. When Adam arrives at the Castle she explains that the time has come for the sword to be claimed by its rightful owner, with this Adam and Cringer walk through the portal into a lush green forest.
Read more about She-Ra at Wikipedia
Official Site: Mattel
Researched by: patrickthekid