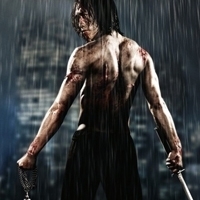 Raizo
CBUB Wins: 1
CBUB Losses: 4
Win Percentage: 20.00%
Added by: Lord_Of_Awesome
Read more about Raizo at: Wikipedia
Official Site: Warner Bros.
Ninja Assassin is a 2009 American martial arts film directed by James McTeigue. The story was written by Matthew Sand, with a screenplay penned by J. Michael Straczynski. The film stars South Korean pop sensation Rain as a disillusioned assassin looking for retribution against his former mentor. Ninja Assassin explores political corruption, child endangerment and the impact of violence. Known for their previous work on the Matrix Trilogy and V for Vendetta, the Wachowski brothers, Joel Silver and Grant Hill produced the film. A joint collective effort to commit to the film's production was made by Legendary Pictures, Dark Castle Entertainment and Silver Pictures. It was commercially distributed by Warner Bros. Pictures.
Ninja Assassin premiered in theaters across the United States on November 25, 2009 earning $38,122,883 in domestic ticket receipts. The film earned an additional $23,467,369 in business through international release to top out at a combined $61,590,252 in gross revenue. Considering its $40 million budget, the film was technically considered a moderate financial success after its theatrical run. The film was met with generally negative critical reviews before its initial screening in cinemas.
Raizo (Rain) is raised by the Ozunu Clan to become the most lethal Ninja assassin in the world. As a child, Raizo (being an orphan) was taken in by Lord Ozuno (Sho Kosugi) and is enrolled in severe brutal training to become the next successor of their clan. The only generosity he ever receives was from a kunoichi named Kiriko (Kylie Goldstein), with whom he develops a romantic bond. However, as time goes on, Kiriko becomes disenchanted with the Ozunu's routine and wishes to abandon it for freedom. One rainy night, Kiriko decides to make her escape and encourages Raizo to join her; however he decides to stay. Branded as a traitor, Kiriko was caught and later executed in front of Raizo by her elder ninja brother Takeshi (Rick Yune). As a result of Kiriko's death, Raizo begins to harbor resentment and doubt towards the Ozunu. However, this is shown to be in the past. The scene switches to the present where a female assassin (in disguise) attempts to kill Raizo. He successfully fends off all her attacks and succeeds in killing her, leaving her remains in the washing machine.
The scene switches back to the past where Raizo is seated in a car and is instructed by Lord Ozunu to successfully complete his mission. After completing his first assassination, Raizo meets the rest of his clan atop a city skyscraper in Berlin. There he is instructed by Lord Ozunu to execute another kunoichi traitor like Kiriko. He rebels against Lord Ozunu by cutting his face with a kyoketsu shoge and engages in combat against his fellow ninja kin. Barely surviving, he falls over the edge of the skyscraper and into a nearby pool. Raizo recovers from his ordeal and begins to intervene and foil subsequent Ozunu assassination attempts. Meanwhile, Europol agent Mika Coretti (Naomie Harris) has been investigating money-linked political murders and finds out that they are possibly connected to the Ozunu. She defies her superior, Ryan Maslow (Ben Miles), and retrieves secret agency files to find out more about the investigation.

Images with a green border may be set as the character's main profile image.
For images 200x200 or 300x300 pixels square.
No match records for this character.