Coraline Jones

CBUB Wins: 1
CBUB Losses: 0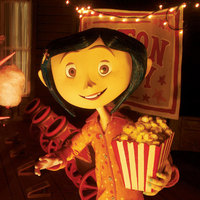 Coraline is a 2009 Oscar-nominated American stop-motion 3-D fantasy/horror film based on Neil Gaiman's 2002 novel of the same name. It was produced by Laika and distributed by Focus Features. Written and directed by Henry Selick, it was released widely in US theaters on February 6, 2009, after a world premiere at the Portland International Film Festival.
The film made $16.85 million during opening weekend, ranking third at the box office. As of September 2009, the film has grossed over $120 million worldwide.
Coraline Jones moves from Pontiac, Michigan with her mother and father to the Pink Palace Apartments in Oregon, an old house subdivided into three residences. The other two apartments are inhabited by retired actresses Misses Spink and Forcible, and the eccentric Russian acrobat Mr. Bobinsky. With her parents frantically working on a gardening catalog in order to make ends meet, and paying little attention to her, Coraline begins to feel neglected. While exploring the grounds, she meets Wybie Lovat, the talkative grandson of the landlady. Back in the house, Coraline finds an oddly small door that has been wallpapered over. She gets her mother to unlock it, only to find a brick wall behind it.
That night, Coraline is awakened by the sound of a mouse and follows it to the small door. She discovers that the brick wall has disappeared, replaced by a long corridor to another door. At the other end, Coraline finds herself in the "Other World," which is inhabited by her "Other Mother" and "Other Father", doppelgänger of her parents, except for having black buttons in place of eyes. In sharp contrast to her real parents, the Others are attentive to Coraline. She decides to stay the night in the Other World, but when she awakes the next morning, she finds herself back in her bed in the real world.
Read more about Coraline Jones at Wikipedia
Official Site: Universal Pictures
Researched by: Blue Beetle (Jamie Reyes)