| | |
| --- | --- |
| Character sourced from: Gaming | |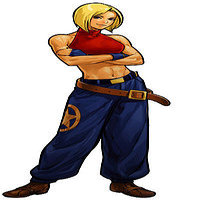 Blue Mary
CBUB Wins: 3
CBUB Losses: 5
Win Percentage: 37.50%
Added by: videogameman
Read more about Blue Mary at: Wikipedia
Official Site: SNK
, real name , is a video game character from both the Fatal Fury and The King of Fighters series of fighting game developed by SNK Playmore (formerly "SNK"). Blue Mary's first appearance was in the arcade and console game Fatal Fury 3: Road to the Final Victory which introduced her as an agent who investigates two criminals known as the Jin Brothers. During the series, Mary meets Terry Bogard, to whom she develops a strong attachment. She is also featured in The King of Fighters in which she enters several consecutive 'King of Fighters' tournaments, changing teams over time. Blue Mary has also appeared in the twenty-minute featurette Memories of Stray Wolves based on the Fatal Fury series.
Blue Mary's original visual inspiration was Android #18, a character from the Dragon Ball manga by Akira Toriyama. Blue Mary is noted for having short blonde hair and blue eyes, and a fairly muscular body. In Fatal Fury 3 and Real Bout Fatal Fury, Mary wears a small sleeveless red top and loose blue jeans with the sign of a star. She also wears a brown belt around the jeans (which is noted to become longer in following games), blue fingerless gloves and a green leather jacket that she takes off before fighting. In Real Bout Fatal Fury Special Mary now wears her green jacket in battles and now has her top replaced with a blue brassiere. In contrast to this, her "EX" form - as well as her character in the PlayStation port from this game - has the same appearance, but with the jacket red and a black brassiere. Although Blue Mary had this new look, for KOF her designer wanted to use the original Fatal Fury 3 design as he liked it more. However, she appears in KOF: Maximum Impact Regulation A with her Real Bout Fatal Fury Special design. Although Mary does not appear in the final Fatal Fury game, Garou: Mark of the Wolves (situated ten years after Real Bout Fatal Fury), she appears in the short Memories of Stray Wolves from the same game. During the featurette, Mary now has long hair and wears a red and white jacket with the number "8" on her shoulder. She also sports a white blouse under the jacket and now has brown jeans.
According to her background story in Fatal Fury 3: Road to the Final Victory, Mary is the granddaughter of , the Japanese Kobujutsu master who trained Geese Howard, and she has been trained in martial arts since childhood, with her specialty being Combat Sambo. On her 20th birthday, she was introduced to her father's Secret Service partner Butch, who gave her the leather jacket she wears as a birthday present. Mary and Butch began dating, and Butch began training her in Combat Sambo. However, Butch and Mary's father were one day assigned to guard the President during a parade. After the parade was over, a group of assassins tried to kill the President, and both men, Mary's father and Butch, lost their lives protecting him. She has a pet dog named Anton which normally accompanies her to wherever she has a fight. Blue Mary is very friendly towards everyone, but she knows that her job must come first before anything else. The fighting art she employs, Combat Sambo, uses striking and grappling techniques.
In the Fatal Fury series, Blue Mary has different assignments as an agent which take her to confront criminals from the city of Southtown. She makes her first appearance in Fatal Fury 3: Road to the Final Victory, investigating the Secret Scrolls of the Jin Brothers, items able to give immortality to their users. Real Bout Fatal Fury shows Mary allying with Terry Bogard and his friends to fight the crime lord from Southtown Geese Howard. The two following games, Real Bout Fatal Fury Special and Real Bout Fatal Fury 2: The Newcomers, also feature Blue Mary as a playable character but neither of them presents a storyline. Real Bout Fatal Fury Special also features an "EX" version from Mary with her movesets from Fatal Fury 3. The PlayStation version of Real Bout Fatal Fury Special also contains a video clip featuring the song "Blue Mary's Blues" by Harumi Ikoma, Mary's voice actress.

Images with a green border may be set as the character's main profile image.
For images 200x200 or 300x300 pixels square.
No match records for this character.