Randy "The Ram" Robinson

CBUB Wins: 0
CBUB Losses: 3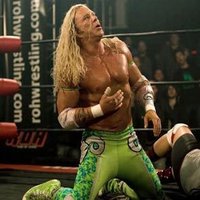 The Wrestler is a 2008 drama film directed by Darren Aronofsky, written by Robert D. Siegel, and starring Mickey Rourke, Marisa Tomei, Evan Rachel Wood, and Ernest Miller. Production began in January 2008 and Fox Searchlight Pictures acquired rights to distribute the film in the U.S.; it was released in a limited capacity on December 17, 2008 and was released nationwide on January 23, 2009. It was released on DVD and Blu-ray Disc on April 21, 2009 in the United States. It was released in the United Kingdom on June 1, 2009.
Rourke plays an aging wrestler who continues to wrestle matches in an attempt to cling on to his 1980s heyday despite his failing health, while also trying to mend his relationship with his estranged daughter and find romance with a stripper.
The film received wide critical acclaim. At its premier at the 2008 Venice Film Festival in August, it won the Golden Lion Award. Film critic Roger Ebert wrote it as one of the year's best films, while Rotten Tomatoes reported that 98% of critics gave the film positive reviews. For his role, Mickey Rourke went on to receive a BAFTA award, a Golden Globe award, an Independent Spirit Award, and an Academy Award nomination for Best Actor.
Robin Ramzinski (Mickey Rourke), stage named Randy "The Ram" Robinson, is a professional wrestler and was a celebrity in the 1980s. Twenty years later, he is now past his prime, working as a supermarket laborer and wrestling on weekends for independent promotions in the Elizabeth, New Jersey area. He struggles to pay the rent for his trailer and his supermarket boss, Wayne (Todd Barry), continually derides him. He also regularly visits a strip club where he has befriended a stripper, Cassidy (Marisa Tomei). Though still beautiful she, like Randy, is getting old for her job. Randy agrees to a proposed 20th anniversary rematch in Wilmington with his most notable opponent, "The Ayatollah" (Ernest Miller).
Read more about Randy "The Ram" Robinson at Wikipedia
Official Site: Fox Searchlight
Researched by: Austo191