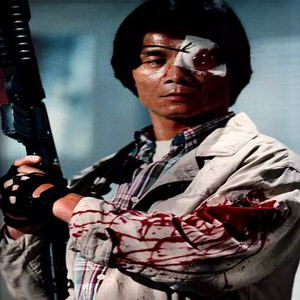 Maddog
CBUB Wins: 0
CBUB Losses: 1
Win Percentage: 0%
Added by: KevinDWolf93
Read more about Maddog at: Wikipedia
Official Site: Dragon Dynasty
Hard Boiled ( ) is a 1992 Hong Kong action film directed by John Woo. The film stars Chow Yun-fat as Inspector "Tequila" Yuen, Tony Leung Chiu-Wai as Alan, an undercover cop, and Anthony Wong as Johnny Wong, a leader of criminal triads. The film features Tequila, whose partner (Bowie Lam) is killed in a tea house gunfight with a small army of gangsters. One of the mob's high-ranking assassins is the undercover cop Alan, who must team up with Tequila for their common pursuit of taking down Wong's crime syndicate. The film leads up to a climax in a hospital, where the two must rescue innocent civilians and newborn babies from the maternity ward while fighting off dozens of mob hitmen.
Hard Boiled is John Woo's last Hong Kong film to date. After making films that featured gangsters in the lead role, Woo wanted to make a Dirty Harry styled film to glamorize the role of a police officer. After the death of screenwriter Barry Wong, the script of the film went through many changes while still filming. New characters such as Mad Dog and Mr. Woo were introduced while the original idea of a baby poisoning psychopath were cut from the script.
The film was released in Hong Kong in 1992 to generally positive audience reception, but it was not as popular as Woo's previous action films, such as A Better Tomorrow and The Killer. Reception from western critics was much more positive, with many critics proclaiming its action scenes to be some of the best ever filmed. In 2007, a video game sequel to Hard Boiled titled Stranglehold was released, which is in the process of being made into a film.
In a tea house in Hong Kong, Officer "Tequila" Yuen (Chow Yun-Fat) and his partner Benny (Bowie Lam), attempt to arrest a group of gun smugglers while they are making a deal. After an ambush from another gang member, a fierce gun battle breaks out. The gangsters are defeated but with several police officers badly wounded, and Benny is killed. Tequila decides to get revenge on the gangster who ambushed them, which angers his boss, Officer Superintendent Pang (Philip Chan), who orders Tequila off the case. Elsewhere, undercover cop Alan (Tony Leung) works for triad boss "Uncle" Hoi (Kwan Hoi-Shan). Alan had murdered a fellow member of Hoi's gang, who had been working for Johnny Wong's (Anthony Wong) syndicate. Wong is impressed by Alan's skill and attempts to recruit him. Alan reluctantly turns against Hoi when Wong conducts a raid on Hoi's arsenal at a warehouse. At the warehouse, Wong's men kill Hoi's workers and destroy his stock. When Hoi arrives, Wong demands Alan kill Hoi. After Alan kills Hoi and his gang members, smoke grenades explode and Tequila appears from the ceiling. Alan covers Wong's escape as Tequila battles and kills most of the gangsters. Tequila finds himself confronting Alan face to face in the smoke. Tequila tries to shoot Alan, but his revolver is out of ammo. Alan slowly lowers his gun and walks away.

Images with a green border may be set as the character's main profile image.
For images 200x200 or 300x300 pixels square.
No match records for this character.
Regular play Record:
| Result | Opponent | A Score | | B Score |
| --- | --- | --- | --- | --- |
| Loss | El Mariachi | 8 | to | 9 |