The Jackal

CBUB Wins: 0
CBUB Losses: 1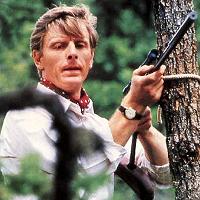 The Day of the Jackal is a 1973 film set in August 1963, based on a novel of the same name by Frederick Forsyth. Directed by Fred Zinnemann, it stars Edward Fox as the assassin known only as "the Jackal" who was hired to assassinate Charles de Gaulle.
The film was expensive to produce, as it was filmed in numerous locations throughout Europe. Despite being heavily promoted, being based on a successful novel, and receiving generally positive reviews, the film was a box-office failure. It did, however, make Edward Fox a well-known actor (if not an A-list star), though many speculated the film's lack of an established star (with Michael Caine having lobbied for the lead role) was the reason for its lack of success. However, Zinnemann wanted the part to be played by an unknown to emphasise that the Jackal was a faceless outsider.
This story takes dramatic historical events and builds on them.
Dissatisfied with French President Charles de Gaulle's decision to give independence to Algeria, the OAS, a militant French underground organization, decide to assassinate de Gaulle, believing they can restore the glory of France by killing him.
Read more about The Jackal at Wikipedia
Official Site: Universal Pictures
Researched by: Boratz
| Result | Opponent | A Score | | B Score |
| --- | --- | --- | --- | --- |
| Loss | Jack Bauer | 9 | to | 23 |