Hercules (DC Comics)

CBUB Wins: 0
CBUB Losses: 2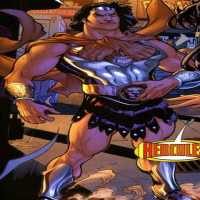 Hercules (also known as Heracles and Herakles) is a fictional Olympian god in the DC Universe based on the Greek demigod and hero of the same name.
Hercules first appears in All Star Comics #8 (December 1941) as part of a Wonder Woman story, and was created by William Moulton Marston and Harry G. Peter, in the first of several incarnations. Later versions appeared in Superman #28 (May 1944), created by Jerry Siegel and Ira Yarbrough, Wonder Woman #105 (April 1959) and Hercules Unbound #1 (October 1975) created by Gerry Conway and José Luis García-López.
In the universe of DC Comics, Hercules was used on occasion before Crisis on Infinite Earths as a foil to Superman. In these Silver Age books, Hercules usually appears as a giant, and frequently tests his strength with the Bible character Samson and another giant named Zha-Vam, as well as with Superman.
In 1975, DC produced a comic book series titled Hercules Unbound, featuring the adventures of Hercules in a post-apocalyptic future. This Hercules looked different from the other DC interpretations - he had long black hair and no beard. The series lasted 12 issues. It made use of characters and concepts, such as The Atomic Knight and the intelligent animals from Jack Kirby's Kamandi series as an attempt to tie in some of the future series. It was later hinted that this version of Hercules was actually part of a dream suffered by Gardner Grayle, but was later shown to have existed somewhere in the Multiverse and was eliminated during the Crisis on Infinite Earths. José Luis García-López drew the first six issues and Walt Simonson drew the remainder of the series. Wally Wood inked several issues.
Read more about Hercules (DC Comics) at Wikipedia
Official Site: DC Comics
Researched by: agustinaldo