Neku Sakuraba

CBUB Wins: 1
CBUB Losses: 0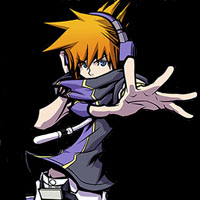 The World Ends with You, released in Japan as , is an action role-playing game developed by Square Enix's Kingdom Hearts team and Jupiter for the Nintendo DS handheld console. Set in the modern-day Shibuya shopping district of Tokyo, The World Ends with You features a distinctive art style inspired by Shibuya and its youth culture. Development was inspired by elements of Jupiter's previous game, Kingdom Hearts: Chain of Memories. It was released in Japan in July 2007, and in PAL region and North America on April 22, 2008.
In the game, Neku Sakuraba and his allies are forced to participate in a game that will determine their fate. The battle system uses many of the unique features of the Nintendo DS, including combat that takes place on both screens, and attacks performed by certain motions on the touchscreen or by shouting into the microphone. Elements of Japanese youth culture, such as fashion, food, and cell phones, are key aspects of the missions.
The World Ends with You received positive reviews, which praised the graphics, soundtrack, and integration of gameplay into the Shibuya setting. The few common complaints were related to the steep learning curve of the battle system as well as the imprecise touch-screen controls. In the week of its release, the game was the second best-selling DS title in Japan, and the top selling DS title in North America. Shiro Amano, writer and artist of the Kingdom Hearts manga, later created a manga based of the video game.
The game takes place in a fictional version of the Shibuya shopping district in Tokyo, Japan. While everyday life goes on in the Realground (RG), the chosen dead are brought to an alternate plane of existence called the Underground (UG). The UG is also the venue for the Reapers' Game.
Read more about Neku Sakuraba at Wikipedia
Official Site: Square Enix
Researched by: Lemming