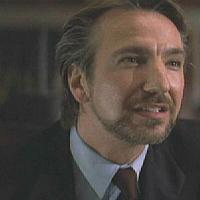 Hans Gruber
CBUB Wins: 1
CBUB Losses: 7
Win Percentage: 12.50%
Added by: Boratz
Read more about Hans Gruber at: Wikipedia
Official Site: 20th Century Fox
Die Hard is a 1988 American action film and the first in the Die Hard film series. The film was directed by John McTiernan and written by Jeb Stuart and Steven E. de Souza. It is based on a 1979 novel by Roderick Thorp titled Nothing Lasts Forever, itself a sequel to the book The Detective, which was previously made into a 1968 film starring Frank Sinatra. The film was produced by Lawrence and Charles Gordon, along with Joel Silver.
It stars Bruce Willis as NYPD officer John McClane, Bonnie Bedelia as his wife, Holly, and Alan Rickman as thief Hans Gruber.
The film was followed by three sequels; Die Hard 2 in 1990, Die Hard With A Vengeance in 1995, and Live Free or Die Hard in 2007.
On Christmas Eve, Detective John McClane (Bruce Willis) of the New York City Police Department arrives in Los Angeles to reconcile with his estranged wife, Holly Gennaro (Bonnie Bedelia). McClane is driven to the Nakatomi Plaza building by a limo driver named Argyle (De'voreaux White). The company Christmas party is disrupted by the arrival of thirteen terrorist led by Hans Gruber (Alan Rickman). The terrorists cut the telephone lines, seal the building exits, trapping Argyle and the limo inside the parking garage and replace the building guard with one of their own. Hans and his group secure the party goers as hostages, but McClane manages to slip into the stairwell of the building. Gruber portrays himself to the police as a terrorist working towards various extremist goals, but it is revealed that they are actually trying to steal $ million in bearer bond from the Nakatomi vault. When Nakatomi executive Joseph Takagi (James Shigeta) refuses to reveal the code for one of the vault's seven locks, Gruber executes him. Gruber orders Theo (Clarence Gilyard Jr.), his technical expert, to break through the locks on the vault. Theo reminds Hans that the final lock is powered by circuits that cannot be cut locally. Gruber promises to handle the last lock.
No match records for this character.