| | |
| --- | --- |
| Character sourced from: Gaming | |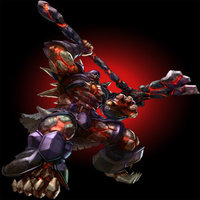 Astaroth
CBUB Wins: 2
CBUB Losses: 5
Win Percentage: 28.57%
Added by: videogameman
Read more about Astaroth at: Wikipedia
Official Site: Namco
is a fictional character in the Soul series of video games. Created by Namco's Project Soul division, he first appeared in the original Soulcalibur and its subsequent sequels, later appearing in various merchandise related to the series. He is voiced in Japanese by Banjō Ginga for Soulcalibur and Ryūzaburō Ōtomo in later titles; in English, Astaroth is voiced by Jay S. Gilbert in Soulcalibur II and Michael McConnohie for the remaining titles.
Introduced in Soulcalibur, Astaroth is a golem created by a cult worshiping the Greek god of war Ares to locate a cursed sword named "Soul Edge". Though Astaroth has consistently pursued the sword, his character has changed as the series progresses, eventually transforming into a power hungering creature desiring to consume the sword. Regarded as an iconic character of the series, Astaroth has been noted as fitting a large character stereotype seen in fighting games, featuring strong attacks but slow speed. Astaroth has been described as having easy-to-master gameplay and being popular with fans of strong, hard-hitting characters in fighting games. However, these aspects have also been a source of criticism towards the character, with complaints that the character serves as a crutch used by less-skilled players of the games.
As a character introduced in Soulcalibur, Astaroth's weapon, a giant axe, was decided upon before other aspects of the character were. His design revolved around it, starting with gender, then physical measurements, and lastly background details. Once established, his appearance and movement were fleshed out by the team's concept art Aya Takemura and rendered as a 3D model by a design team that worked solely on the character. Astaroth was then animated mainly by Nobuko Nimura using motion capture and working directly with the team, while other motion designers created the movements for his grapple attacks. During this phase the team additionally worked with the Soulcalibur story creators, refining the character's own role in the plot as needed throughout development. Soulcalibur IV lead programmer Masaaki Hoshino called Astaroth his favorite character, stating that because he is "so powerful there's always a chance to make a comeback".
During development, a golem devoid of facial features, armed with a sword and shield, and accompanied by a small girl was considered as a possible character, but scrapped. Before finalizing his appearance several other designs were considered, ranging from a Frankenstein's monster-inspired character to a medieval berserker. Despite having a male voice and physical build, Astaroth was referred to as "it" in terms of gender for the character's Soulcalibur background information. However the background information in other character profiles instead refer to him as male, and his background information in later titles followed suit.
No match records for this character.