Jimmy Hopkins

CBUB Wins: 1
CBUB Losses: 1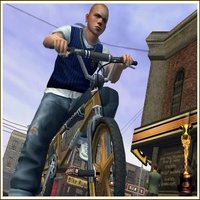 Bully, also known as Canis Canem Edit outside of North America (Latin for "Dog eat dog") for the PAL PlayStation 2 version, is a third person action-adventure video game released by Rockstar Vancouver for the PlayStation 2 on 17 October 2006 in North America, and 25 October 2006 in the United Kingdom. An Xbox version was planned but was canceled for undisclosed reasons. The game was re-released as Bully: Scholarship Edition on 4 March 2008 for the Wii and Xbox 360 and 24 October 2008 on PC (this name is retained in the PAL releases). The PlayStation 2 version of the game is also available in the United States as a special edition that includes a limited edition comic book and a dodgeball of the same style as the ones used in the game, with the word "Bully" embossed on it.
Bully is a sandbox game set in a school environment. The player takes control of teenage rebel James "Jimmy" Hopkins, who from the opening cutscene is revealed to be a difficult student with a disruptive background. The game concerns the events that follow Jimmy being dropped off at Bullworth Academy, a fictional New England boarding school. The player is free to explore the school campus in the beginning and, later on in the game, the town, or to complete the main missions. The game makes extensive use of minigames. Some are used to earn money, others to improve Jimmy's abilities or get new items.
School classes themselves are done in the form of minigames, broken into five levels of increasing difficulty. Each completed class brings a benefit to gameplay. English, as an example, is a word scramble minigame, and as Jimmy does well in this minigame, he learns various language-skills, such as the ability to apologize to police for small crimes. Chemistry also an example, is a button pushing minigame, and if Jimmy does well, he gains the ability to create firecrackers, stink bombs, and itching powder at his chemistry set in his room at the dorm.
Jimmy has a multitude of weapons available, although they tend to run along the lines of things a school boy might actually attain, such as a slingshot, bags of marbles, itching powder, fire crackers, stink bombs, and, later in the game, a bottle rocket launcher and the spud cannon, a firearm that launches potatoes. Although fighting is an integral part of the game, violence against girls, smaller kids, the public, or authority figures generally has swift and severe consequences. Jimmy can get busted by the prefects, teachers, police and even the public (by holding him down onto the floor and waving to get the police).
Read more about Jimmy Hopkins at Wikipedia
Official Site: Rockstar Games
Researched by: Austo191