Shaun

CBUB Wins: 2
CBUB Losses: 3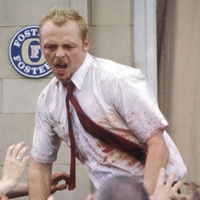 Shaun of the Dead is a 2004 British horror comedy film directed by Edgar Wright, starring Simon Pegg and Nick Frost, and written by Pegg and Wright. Pegg plays Shaun, a man attempting to get some kind of focus in his life as he deals with his girlfriend, his mother and stepfather. At the same time, he has to cope with an apocalyptic uprising of zombie.
The film is the first of what Pegg and Wright call their Blood and Ice Cream Trilogy with Hot Fuzz as the second and The World's End as the third.
The film was a critical and commercial success in the United Kingdom, and the United States. It received universal acclaim with a 91% approval rating on Rotten Tomatoes and a score of 76 out of 100 at Metacritic. Shaun of the Dead was a BAFTA nominee.
Shaun (Simon Pegg) is a 29-year-old salesman whose life has no direction. His younger colleagues at work show him no respect and he has a rocky relationship with his stepfather, Phillip (Bill Nighy). He also has a tense relationship with his housemate, Pete (Peter Serafinowicz), because of Ed (Nick Frost), Shaun's crude best friend who lives on their couch and deals marijuana. His girlfriend, Liz (Kate Ashfield), is unsatisfied with their social life, because it consists primarily of spending every evening at the Winchester, Shaun's favourite pub, as well as the fact that they never do anything alone together - Shaun always brings Ed and she has to bring her flatmates, David (Dylan Moran) and Dianne (Lucy Davis). After a miserable day at work, Liz breaks up with Shaun when he fails to book a table at a restaurant for their anniversary. Shaun drowns his sorrows with Ed at the Winchester and they return home late, only to have Pete confront them. Pete, suffering a headache after being mugged and bitten by "some crackheads", berates Shaun and tells him to sort his life out. Shaun resolves to do so the next morning.
Read more about Shaun at Wikipedia
Official Site: Universal
Researched by: Mixmaster Flibble